Diversity still the spice of life - Cereals 2005
09/06/05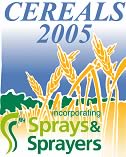 While most visitors to Cereals 2005 will be seeking modern answers to their questions, some of the most effective solutions could be found in the historic collection of cereal varieties held by the Norwich-based John Innes Centre, which is among the exhibitors at the event, being held at Rectory Farm, Guilden Morden, Cambridgeshire on Wednesday 16th and Thursday 17th June.
For among all those lines there could be some which harbour an as yet undiscovered gene that could help modern plant breeders create new varieties adapted to resist new or emerging diseases and pests.
The centre holds almost 25,000 different varieties, some 9,500 of them wheats; nearly 11,000 barleys and 3,000 oats, as well as a large number of brassicas and peas. Researchers are currently examining many of them to check whether they harbour different resistant traits, as Steve Reader, JIC's Manager of Wheat Precise Genetic Stocks, explains:
"We are currently re-examining many of these lines. Any of them could contain a gene that could help solve modern problems, such as maintaining levels of disease resistance in modern varieties. When plant breeders look for new resistance genes they generally start by looking back through their own company's gene pool. But if that fails to locate anything they have to look elsewhere, and we have almost 25,000 candidates for them to consider.
"As the varieties farmers use change, so do the disease threats, and many of the varieties we hold could contain resistance genes which were not appreciated or required when they were originally grown, but which could play a vital role in helping today's arable farmers achieve effective production now".
Looking longer term, the Centre is also helping to discover traits and genes that may equip new varieties to cope better with the stresses that may result from global warming:
"We are continually screening lines for useful traits like drought resistance and the ability to grow in warmer climates or saltier conditions, as well as trying to detect which varieties might have resistance to the changing disease and pest threats that they might face in the future".
The Centre is also working with third world countries to help develop crops which can grow in hostile conditions, such as the acidic soils found in countries like Brazil, Nepal and parts of Africa: "We have found tolerance to these conditions in a 'goat grass' found in the Middle East and that could be cross-bred into crops to help them survive in what would otherwise be hostile environments".

Cereals 2005, incorporating Sprays & Sprayers, is organised and presented by Haymarket Land Events on behalf of the Royal Agricultural Society of England. It is held in association with Farmers Weekly. Principal sponsor is HSBC.