21/05/05
AberStar breeder Dr Pete Wilkins (right) and British Seed Houses director Paul Billings at grass breeding plots at IGER, Aberystwyth.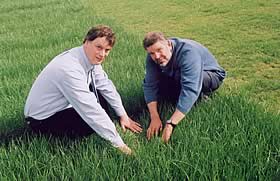 The latest Aber High Sugar Grass (AberHSG) variety AberStar, which makes it debut in NIAB's 2005-06 Recommended List as the highest yielding intermediate perennial ryegrass with the highest Grazing D value, is now available exclusively in British Seeds Houses' AberHSG 3 long term grazing mixture.

According to plant breeders at the Institute of Grassland and Environmental Research (IGER), where AberStar was bred, the variety is the first of a new generation of high sugar grasses, offering a significantly higher mean water soluble carbohydrate (WSC or sugar) content than the established AberHSG perennial ryegrass varieties.

AberStar is the latest product of a forage grass breeding programme at IGER that has focused over the last twenty years on quality criteria, such as sugar content and digestibility, alongside more traditional parameters including yield, persistence and disease resistance.

AberStar enters the NIAB Recommended List in the intermediate diploid category with a yield at the first conservation cut (67 D value) of 117% of the control variety Fennema (equivalent to 1.15 tonnes/ha higher). Yields from simulated grazing trials are similarly impressive, at 111% of Fennema (1.1 tonnes/ha higher).

As expected given its high water soluble carbohydrate content, AberStar is also unrivalled for quality in the Recommended Lists, with a Grazing D value of 11.6 (D value 71.6). This high D value impacts significantly on the variety's total yield index (adjusted for digestibility), lifting it above all tetraploid varieties as well as equivalent diploids.

Dr Pete Wilkins, manager of grass breeding at IGER, said that AberStar was the latest evidence of the significant progress being made in the pursuit of higher quality forage ryegrasses alongside yield.

"Depending on management regime, the new generation of Aber high sugar grasses are yielding on average an extra 40g/kg WSC in our latest trials," he revealed. "The most recent results represent an annual improvement of 5g/kg - or 0.5 percentage points - over each of the past nine years of our Aber HSG breeding programme.

"We are also widening the ratio between WSC and protein in the grass, which will allow the animal to utilise the protein more efficiently."

Dr Wilkins explained that grass with a high WSC content provides extra, readily available energy for the rumen microbes. This results in the double benefit of allowing them to utilise more of the available protein from the forage for meat or milk production, while decreasing the amount of nitrogen lost in the urine.

"IGER animal scientists have recorded significant improvements in stock performance when grass varieties had WSC contents at least four percentage points higher than 'control' varieties - so the improvements we are making should be very important to the on-farm performance of these new generation of Aber high sugar varieties," he stressed.

The confidence of the breeder and the consistently high performance of AberStar through pre-selection for National List trials gave IGER's marketing partner British Seed Houses sufficient confidence in the variety to accelerate the normal seed production process. As a consequence, AberStar is commercially available with immediate effect as part of British Seed Houses' Aber HSG 3 long term grazing mixture. Aber HSG 3 is exclusively made up of Aber High Sugar Grasses, containing the established intermediate perennial diploid AberDart and the late perennial diploids AberAvon and AberZest, as well as AberStar. The mixture also includes the AberPasture white clover blend.

Aber HSG 3 extends the range of Aber HSG mixtures that already includes dual purpose and cutting leys. All are available from seed distributors throughout the UK.