Record Sheep Entries for Northumberland County Show
2010-05-12
Sheep Section entry numbers at the forthcoming Northumberland County Show were under threat recently due to compulsory electronic ear tagging.
James Raine of West Woodburn, 'junior' sheep section steward at Northumberland County Show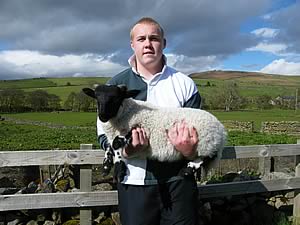 "Many of the lambs to be exhibited will be just 4-6 weeks old at the time on the show" (31st May) explains the Sheep Section Chief Steward Robert Raine, of West Woodburn "the compulsory electronic ear tags every animal has to wear were actually bigger than the lambs ears and competitors were disinclined to cause such discomfort to such tiny creatures. We became aware that it might severely affect our entry numbers when everyone started to receive their schedules and gave us their feedback"
An international environmental disaster it seems has given the sheep section something of a reprieve; it seems the Icelandic volcano eruption has resulted in a world shortage of the electronic 'chips' within the tags. "Apparently they are made in China" says Robert "and deliveries have been disrupted because on the knock on effects on the world flight paths caused by the volcano. On contacting the Trading Standards governmental department we've been informed that in light of our special circumstances our 'showing' lambs will be able to be moved and exhibited at the show wearing the old smaller plastic tags instead."
"At least 15 of our classes would have been affected and the lamb's classes are the most popular for us as farmers but also for the visiting public, many of whom haven't had a chance to see this year's lambs close up. We always get a huge amount of children coming to see the lambs" he says.
The resulting number of entries, with the final count this week is 425, a year on year rise of an extra 50 entries since 2006 when entries stood at 265. "We've nearly doubled our figures since then" he says. This year's steadying on entry numbers has directly resulted from the ear tag reprieve; the rise in numbers comes directly from the growing popularity of the Zwartbles, a new class last year. "We have 66 entries alone on those classes" he says.
The harsh winter has resulted in 'lighter' lambs for many hill farmers this year and the resulting severe shortage of grass means a poorer milk supply. " The lamb I'm holding is about 10 kilos" says James, Robert's son (also captain of the under 16's Tynedale Rugby team and voted recently as players Player of the Season) "a last year's lamb would be about 15 kilos, this year's have a lightness rather than the usual 'solid' feel" he says but as judging itself is comparative; all lambs throughout the competition will be 'light'. The judges will be looking for the usual breed statistics "for Texels and Suffolks, they're looking at the legs and gigots. When they look at the Blackface they're looking for hardiness" Robert explains.
Yet the market continues to improve "Prices are still going up" says Robert "for me the future is getting brighter, particularly for the Blackface which is now being successfully marketed by Sainsburys and Tesco as 'Hill lamb' and as all lamb becomes less available due to recent declining sheep farming businesses, it increases in value and desirability. ..but as with all businesses in the short and long term we are affected by the value of sterling; and that's something we can only hope will improve in time".
Cattle entries have seen a rise of 25 more cattle than last year with 305 entries from last year's 281. Largest entries come from within the Any Other Dairy Breed section with 66 entries, followed by 46 Holstein, 42 Longhorn, 40 Limousin, 31 Commercial Beef, 24 entries each for Highland and Any Other Pedigree Native Beef, 18 Dexter and 14 Any other Continental Beef Breed.
Alpaca numbers are a healthy 70 with entries still being counted for the Goat section which reports 5 new exhibitors. Record numbers of Heavy Horse Turnout's with 32 'In Hand' and 19 'Driven' entries expected; many exhibitors travelling from Scotland (Isle of Bute, Aberdeen and Lanarkshire. The Poultry Section is still open for entries closes on the 15th May.

Poultry Scholarships to be Launched


Finalists Named in New ABN Innovation Award


Try Your Hand at Auctioneering at Beef Expo 2010