John Deere 6030 Series Tractors Updated for 2010
2009-11-19
John Deere's 6030 Series Mannheim tractor range, including the 7430 and 7530 models, is being updated for 2010 to provide increased performance and reduced fuel consumption.
John Deere 6534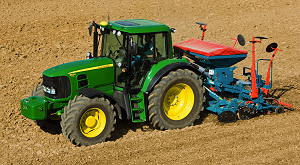 The changes mostly involve horsepower changes to both Premium and Standard cab machines, and the 6530 model is being replaced by the new 6534 tractor from February 2010.
Most of the tractors will receive rated increases of up to 5hp, while Premium models will deliver a similar increase in output when boosted by the engine's Intelligent Power Management (IPM) system. Fuel consumption will also be reduced by an average of 2 to 3 per cent on Premium tractors and up to 4 per cent on Standard models, as the result of software and engine design changes.
Available in both Premium and Standard versions, John Deere's new 6534 tractor marries a four-cylinder engine to a six-cylinder chassis for more power and improved fuel economy.
This model replaces the 120hp six-cylinder 6530 tractor, and is rated at 125hp (97/68 EC), rising to 145hp with Intelligent Power Management (IPM), which generates extra engine power for non-stationary pto and transport applications. The 6534 tractor retains all the other main specifications of the 6530 model, including a large 250-litre fuel tank and a lift capacity of 6748kg.
The design provides excellent power density and a better power to weight ratio, with the long 2.65m wheelbase allowing a maximum permissible weight of 9500kg. The 6534 can also be matched with high capacity front loaders from the John Deere 3 Series range, lifting more than 2 tonnes to over 4m.
This new tractor also retains John Deere's proven full frame concept, modular transmission and lifelong components such as the Perma Clutch 2. A 24/24 PowrQuad Plus 40kph transmission is standard, while AutoQuad Plus or AutoPowr 40 or 50kph transmissions are optionally available.
The Tier 3 high pressure common rail (HPCR) PowerTech Plus diesel engine on the Premium model is equipped with a variable geometry turbocharger (VGT) and exhaust gas recirculation (EGR) for better fuel efficiency and engine responsiveness. The Standard engine has the same HPCR fuel injection system, but without VGT, EGR and IPM. This engine delivers 20 per cent constant power and a five per cent power bulge when required.
The cab is rated at 70.6dBA, the quietest on the market, and features optional hydraulic cab suspension (HCS). For an easier reach from the steering wheel, the left hand reverser is integrated into the dashboard. To provide the driver with a perfect view of the instrument panel from any position, the whole dashboard can be moved telescopically.
The CommandCenter on the right hand control console is a combination of information centre and set-up monitor in one large, full colour display. For frequently used functions such as the settings for the hitch, engine, transmission, headland management system and SCVs, there are shortcut keys on the control panel giving quick and direct access for changing the settings.
Those functions which are used less often are featured in a single menu page, which can be accessed by pressing a menu button and using the rotating dial. Extra settings can be engaged using programmable hotkeys on top of the CommandCenter, which can also display relevant tractor data.
Prices of the new 6534 tractor will start at £55,412 for the Standard and £69,057 for the Premium models (excluding VAT).

Case Puma CVX is Machine of the Year 2010


Highlands Machinery Dealer Signs for McCormick Tractors


New 7950i Flagship Model Forager from John Deere