Case Puma CVX is Machine of the Year 2010
2009-11-18
During Agritechnica 2009, the PUMA CVX from CASE IH was selected as Machine of the Year by international specialist journalists.
Case Puma CVX 225 at Agritechnica 2009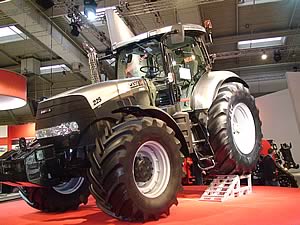 The technology editors based their decision above all on the innovative technologies which are put to work in the PUMA CVX - including for example the infinitely variable CVX drive with dual clutch technology (DKT), the new anti-blocking system (ABS), which is used for the first time in this form, and additional functions, such as a steering brake.
In addition, the experts emphasised the user-friendly operating concept, with multicontroller and new ICP panel, as an advance in tractor construction.
Intuitive operating concept with fingertip control
The Intuitive Control Panel - "ICP" for short - is integrated into the armrest; it is a control and operating panel, which complements the operation of the new multicontroller in an ideal manner.
The buttons, easily operable by fingertip, are accessible here for various tractor functions. This panel can be used to manage all major tractor functions easily and with a clear overview.
Well equipped for precision farming
The PUMA CVX is also ideally equipped for use in precision farming concepts. The AFS monitors from CASE IH allow all tractor functions, the Accuguide™ parallel tracking system with data recording, as well as ISO BUS compatible accessory equipment, to be controlled.
Because of its unique design, the cab of the PUMA CVX is one of the roomiest, and with only 69 dB (A), one of the quietest on the market.
The drive with its maximum speed of 60 km/h, or 50 km/h at a reduced engine speed, ensures efficient and fuel-saving operation.
Independent jury, international members
Since 1997, every two years the technical editors of the Deutscher Landwirtschaftsverlag (German Agricultural Publishing House) have selected the best agricultural technology innovations as "Machine of the Year". This year for the first time, the jury was supplemented by international specialist journalists from Denmark, Germany, Poland, Romania, Russia, Sweden, and Hungary.
Concepts with practical applications were recognised
The award for "Machine of the Year" is distinguished in a number of ways in comparison with similar agricultural technology prizes. Therefore not just systems, but machines in their integrity are rewarded. Furthermore, the jury awards prizes only to practical and marketable innovations.
The "Machine of the Year" prize is assigned in 13 categories. The PUMA CVX received the prize for the category of tractors in the Upper Middle Range.
Technical highlights of the Case IH Puma CVX which were given special recognition:
8 models with power ratings between 167 and 224 HP
infinitely variable drive
quiet 69 dB (A) cab
Multicontroller and multicontroller armrest
60 km/h with ABS.
All Puma CVX models are manufactured in the St. Valentin tractor plant. Further information from all CASE IH dealers or on the Internet at www.caseih.com. You will also find various videos from the prize-giving at the trade fair.

Highlands Machinery Dealer Signs for McCormick Tractors


New 7950i Flagship Model Forager from John Deere


New Landini Tractor Dealer for Mid-Wales and Shropshire