Mannheim Factory Releases 1,500,000th John Deere Tractor
25/11/08
John Deere's Mannheim tractor factory has released its 1.5 millionth tractor to a customer from the UK.
Simon Amos of John Deere dealer Alexander & Duncan, JDWM factory marketing manager Len Brand, customer Simon Morgan, Deere & Company agricultural division president for Europe, Africa & South America Mark von Pentz, John Deere Limited managing director Richard Johnson and John Deere Limited tractor product manager Gordon Day.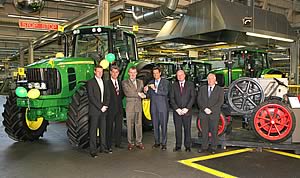 Simon Morgan, owner of a 308ha farm in Herefordshire who grows cereals, peas, beans, rape and forage maize for fattening beef, accepted the keys of his new 180hp 7530 tractor from Markwart von Pentz, president of John Deere's agricultural division for Europe, Africa and South America. The delivery of John Deere's 1.5 millionth Mannheim tractor comes in a year when factory production has hit an all-time record.

Morgan is a customer of Leominster dealer Alexander & Duncan Ltd, who have represented John Deere in Herefordshire and Worcestershire for more than 40 years. The Morgan family has bought and run John Deere equipment from the dealership throughout this time.

History
The Mannheim factory started to manufacture tractors in 1921. The first machine was a one-cylinder crude oil tractor, the famous LANZ Bulldog HL12, which developed 12hp. Without a transmission and equipped with iron wheels, the LANZ Bulldog and subsequent designs were instrumental in the mechanisation of European farming.

The simple single-cylinder crude oil engine concept proved to be extremely versatile and reliable for several decades until it was replaced by a more modern diesel engine design in 1950. By the time John Deere introduced a new generation of tractors to international markets in 1960, the Mannheim factory had produced almost 220,000 Bulldogs.

The year 1960 marked the start of a completely new tractor line-up. The newly designed 300 and 500 series 'John Deere-Lanz' tractors (28 and 36hp) featured an innovative hydraulic lifting system, 10-speed transmission, disc brakes and three PTOs, and provided an entirely new level of operator comfort. From 1967, all tractors made in Mannheim only carried the John Deere name.

Numerous innovations from Mannheim
Over the years, a number of valuable innovations were added to an expanding list of features. In 1974 John Deere tractors were the first on the market to be equipped with a fully protected integrated operator station. In 1981 the unique SoundGard cab design helped to significantly reduce noise levels, and provided additional safety and operator comfort.

In 1992 JDWM introduced the full-frame chassis, enabling the customer to choose from a wider variety of options. This design also led to increased manufacturing flexibility, which provided a unique competitive advantage. Only five years later, in 1997 John Deere introduced the Triple Link Suspension system for the tractor's front axle, which improves traction in the field, enhances operator comfort and allows higher transport speeds.

The latest innovation from Mannheim is the 7030E Premium tractor design, which supplies up to 5kW of electrical power via a drivetrain generator. Instead of being operated mechanically via a drive belt, key components of the engine (the fan, air conditioner and brake compressor) are powered electrically and only on demand. These new tractors therefore deliver approximately five per cent better fuel economy, and are also able to supply electrical power of 230 or 400V through two extra sockets at the rear of the tractor.

Growing demand for Mannheim tractors
The release of John Deere's 1.5 millionth tractor completes a year of record production. Over the 12 month period to 31 October 2008, the Mannheim factory shipped 45,700 tractors to more than 70 countries worldwide, including North America. In the past 15 years, the factory has doubled its shipments to world markets.

Having been Germany's leading tractor manufacturer and exporter since 1972, JDWM now exports more than 90 per cent of its production to other countries. The current range of Mannheim tractors encompasses 22 basic models from 74 to 190hp, designed for a variety of customers ranging from small livestock units to large arable farms and contractors.

John Deere is Germany's largest agricultural equipment manufacturer, employing more than 5600 people in total. Approximately 2900 people are employed at the tractor transmission and assembly factories in Mannheim, and almost 700 people at the cab manufacturing facility in Bruchsal. Last reported sales of all German units amounted to 2.4 billion euros (31 October 2007).

John Deere Launches New 5R Series Tractors


MF 8690 Wins Tractor of the Year at EIMA 2008


Case IH at EIMA 2008