New Holland T5000 Series Breaks Into the +100hp Sector
04/03/08
Building on the legacy of the highly-regarded New Holland TL-A Series tractors, the new T5000 Series comprises four models including the range-topping T5060 tractor, which extends the power of T5000 Series to 106hp.
New Holland T5000 Series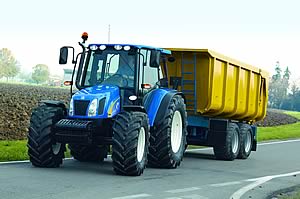 Aimed at dairy and livestock farmers, mixed farmers and contractors in the amenity and groundcare sectors, the T5000 range offers a wide choice of specifications and power levels.
The T5000 range takes on the family look. The modern design and sloping bonnet improve the view of the loader and front-mounted attachments. Inside the enhanced cab, a new colour scheme adds to the tractor's modern look and feel.
Lower engine emissions to meet Tier lll levels
Lower fuel consumption
More power to increase productivity
More torque - up to 40% high torque rise for an instantaneous response
New 12x12 transmission with Powershuttle reverser for unrivalled efficiency on front end loader work
Plenty of hydraulic power 99.5 lpm for the fastest loader cycle times
Rear lift capacity up to 5060kg
Payloads increased by 10%
Spacious low-profile flat floor cab with roof hatch and side opening windows make operations easier and improve safety
Available on agricultural or turf tyres
New engines – more power, more torque at reduced engine speed
Powered by a turbocharged 4.5 litre New Holland engine with intercooler, the new unit is compliant with the stringent European Tier III standards and 100% biodiesel ready. Power levels are increased by four to six horsepower : 76hp T5030, 86hp T5040, 97hp T5050 and the 106hp T5060 model.
These flexible engines now have a rated engine speed reduced from 2,500 to 2,300 rpm with a very low specific fuel consumption down to 216 g/kWh, unequalled in their class. Impressive maximum torque levels of up to 425 Nm are available - between 14-16% higher than on the previous models - and up to 40% torque rise.
The T5000 range has been designed to reduce running costs. The maximum torque is reached at a lower engine speed of just 1,300 rpm, reducing noise and fuel consumption, while service intervals are still set at an industry-leading 600 hours.
New front axle with 60° turning angle
The completely new front axle design on the T5000 models, reinforced for 4WD, has a new single balanced steering cylinder, permitting greater ground clearance. A steering angle of up to 60° provides a turning radius of only 4.05m. The dynamic mudguards completely cover the tyres with any track setting, without interfering with steering performance.
More hydraulic power for the front loader
Thanks to a new dual pump layout for the hydraulic system, the surplus hydraulic power from the 40 lpm steering pump can be used to increase the main pump flow rate from 60 lpm to 80 lpm, considerably enhancing front end loader performance.
This new hydraulic circuit design allows faster cycle times to be achieved when used with the factory-fitted loader ready option. All new T5000 models can be fitted with the optional front linkage and PTO assembly to further increase versatility and productivity.

New Holland T4000 Tractors Lead Compact, High-Performance Sector


New Holland TD5000 Series Builds on Proven Values


Claas Disco Contour Mower Range Extended