New McCormick Compact Tractors for Farming, Horticulture and Smallholdings 30/10/07
A new range of compact tractors available through McCormick sales and service dealers provide versatile performance for farming, horticulture and many other rural enterprises.
The smallest of McCormick's new compact tractors, the CT28, comes with a 12x12 shuttle gearbox or three-range hydrostatic drive and is backed by a network of full-service dealers.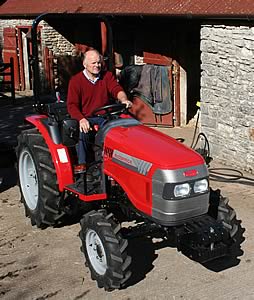 The new 'CT' Series complements McCormick's mechanical drive 35hp to 54hp 'GM' Series and heavy-duty 58hp to 98hp 'F' Series by using hydrostatic drive to give easy driving characteristics and speed control.
"These tractors are ideal for yard scraping and other light duties on dairy farms or pig and poultry units; for paddock work on smallholdings; and for transport, spraying and light cultivation on horticultural units," says Stewart Barnett, McCormick's UK sales manager. "They would also provide a reliable and versatile power unit for equestrian centres, livery stables and large private or commercial properties in the countryside where I would see them pulling trailers and operating grounds maintenance machinery."
The McCormick CT28 has a 1.5-litre Mitsubishi four-cylinder diesel engine developing 28hp and comes with a choice of transmissions – three-range hydrostatic transmission or a 12 forward, 12 reverse speed synchro shuttle gearbox.
A 1.66m wheelbase and 1188kg capacity rear implement lift complemented by single-speed rear- and mid-mounted power take-off shafts round off the essential features of the little machine.
The McCormick CT41 HST and CT47 HST are larger, a little heavier and have more power. The 1.75m wheelbase provides the stability needed to handle bigger implements and linkage lift capacity is a more generous 1250kg. The tractors' 2.3-litre and 2.5-litre Mitsubishi engines develop 41hp and 47hp.
The two larger 'CT' tractors come only with the three-speed hydro-drive transmission, which is operated using separate 'forwards' and 'backwards' pedals. There is also has a cruise control feature that allows forward speed to be maintained without having to keep a foot on the pedal.
A cast front axle with tight-turning 55deg steering provides four-wheel drive traction, with a rear differential lock adding to grip in challenging conditions.
"We're confident these new McCormick models will meet the requirements of a wide range of compact tractor users," says Stewart Barnett. "They are backed by a two-year warranty and, as with our full-size tractors, are supported by a full-service dealer network and reliable parts back-up from our Doncaster base."
McCormick CT Series tractor range
Engine

Transmission

Wheelbase

Power take-off

Implement lift

Retail price *

CT28

Mitsubishi 1.5-litre 28hp

12x12 synchro shuttle

1660mm

540rpm rear and mid-mounted

1188kg

£10,950

CT28 HST

Mitsubishi 1.5-litre 28hp

3-range hydrostatic

1660mm

540rpm rear and mid-mounted

1188kg

£11,900

CT41 HST

Mitsubishi 2.3-litre 41hp

3-range hydrostatic

1758mm

540rpm rear and mid-mounted

1250kg

£14,400

CT47 HST

Mitsubishi 2.5-litre 47hp

3-range hydrostatic

1758mm

540rpm rear and mid-mounted

1250kg

£14,950

* retail price includes traction pattern tyres; turf tyre options available.

New John Deere 6030 Series Tractors Broaden Customer Appeal


Fendt Tractor Runs on Rapeseed Oil


New McCormick Tractor for Hadlow College