McCormick's new utility farm tractor line-up
22/08/05
McCormick F95XL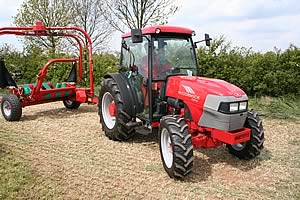 C-Max - three model farm utility range with 58hp to 82hp Perkins engines


F Series - seven yard and fruit / horticultural models from 59hp to 99hp


Four-wheel drive, synchro / power shuttle and cab / platform options
Having just completed the launch of the 170hp to 200hp high-specification XTX Series tractors, McCormick Tractors International has turned its attention to the other end of the power and performance scale with a new line-up of sub-100hp 'utility' models.
Complementing the larger, more fully equipped 73hp to 102hp McCormick CX XtraShift tractors, the C-Max range comprises three models of 58hp, 68hp and 82hp, while an extended F Series covers 59hp to 99hp with seven models. Together, the two lines give buyers plenty of choice in terms of power, physical size and features.
"Farmers looking for an economical 'no frills' tractor that will handle a range of duties on livestock farms should readily find a solution from among these models," says John Percy, product specialist. "They are built for operators who want a relatively light and simple tractor and who recognise the build quality that goes into regular McCormick products."

McCormick C-Max
The McCormick C-Maxis a full-size but lightweight cabbed tractor suitable for all manner of jobs on livestock farms, from loader work to hay making and light tillage. All three versions are powered by Perkins 1100 series engines - a 3.3-litre three-cylinder in the 58hp C60 Max and a 4.4-litre four-cylinder in the 68hp C75 Max and 82hp C85 Max.
There are two- and four-wheel drive variants, the latter featuring integral front axle disc brakes for added security both on the road and in the field. Front and rear differentials are of the fully locking rather than limited slip type to provide maximum traction in slippery conditions.
The standard transmission for the C60 Max and C75 Max is a 12x12, 30kph gearbox with range and gear levers to the right of the driver and a synchro shuttle forward-reverse lever to the left of the steering wheel. The C85 Maxhas an overdrive gear, giving a total of 24 forward speeds and 40kph gearing.
At 3700kg, McCormick C-Maxtractors have sufficient linkage lift capacity to handle most implements relevant to their power output. Two pumps supply the hydraulic functions: the main gear pump delivers 52.3 litre/minute for up to two remote valves and the second pump of 30 litres/min output supplies the steering, diff locks and four-wheel drive clutches.
Retail prices start at £18,975 for a 58hp two-wheel drive McCormick C60 Max (£20,451 for the four-wheel drive version), rising to £22,623 for the 82hp, four-wheel drive McCormick C85 Max.

McCormick F Series
The 'second generation' McCormick F Series tractors may be small in stature but they are engineered to tackle tough jobs.
"They have new engines and transmissions, uprated hydraulics, redesigned controls and instruments, and a larger cab," points out John Percy, McCormick tractor specialist. "On farms, they're ideal for general yard and light field work, but a good specification packed into a small size makes them ideal for fruit, horticultural and other specialist operations."
The new line-up covers the same 59hp to 99hp as before but with seven rather than five models to give a greater choice of power and size, and with a choice of open ROPS protected platform or fully enclosed safety cab.
At 68hp, there is now a three-cylinder model - the McCormick F70 - as a slightly shorter and lighter alternative to the four-cylinder F75XL of similar power and torque. The 75hp McCormick F80 plugs a gap in the range with a three-cylinder turbo engine delivering plenty of torque to cope with challenging draft and trailer work.
As far as transmissions are concerned, the three-cylinder F Series tractors are fitted as standard with a simple 20x20 creep gearbox with synchro shuttle and 40kph gearing; the four-cylinder versions have the same gearbox but with a power shuttle for easier and swifter changes between forward and reverse.
This unusually advanced feature for a tractor of this size also includes a park lock and a multi-disc wet clutch for the pto with electro-hydraulic engagement.
For added performance and speed control versatility, all seven models can be equipped with two-speed electric powershift, which doubles the number of gearbox speeds. Moreover, buyers can choose between two- and four-wheel drive.
Bigger capacity engine-mounted gear pumps than were previously fitted complement the impressive linkage lift capacity of 2600kg by delivering a combined flow of 80 litre/min, which is a 22% increase over the previous set-up. Non-cab models come with mechanical implement lift but when a cab is fitted the tractor can have either mechanical or electronic control.
Retail prices for four-wheel drive McCormick F Series tractors start at £18,604 for a platform 59hp F60 (£20,880 with cab), rising to £28,435 for the 99hp F105.