New Valpadana compact tractor features ultimate versatility
03/04/07
A new version of Valpadana's hydrostatic drive compact tractor introduced by distributor Landini UK has an uprated drive-train and new front linkage/pto options that add to the machine's versatility and make an ideal power unit for a smallholding or stables.
The new Valpadana 1430 HST-REV hydrostatic compact tractor with the seat, instruments and controls in its versatile reverse-drive position.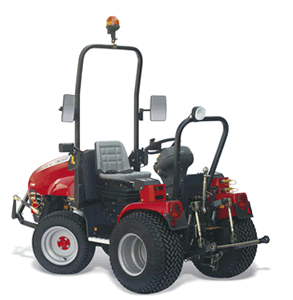 The Valpadana 1430 replaces the 1330 model and comes in two versions –the 'HST' with a conventional forward-facing driving position and as the 'HST-REV' with reversible seat, instruments and controls.
"Apart from being one of the smallest hydrostatic multi-function tractors around, the Valpadana 1430 with reversible driving position is the most versatile because it can be operated in different ways," says Adrian Winnett, UK sales manager. "It can work like a standard compact tractor – for towing a trailer, say, and then turn about to work with a front-mounted cutting deck to give the operator a perfect view of his work."
The little tractor is also easy to drive, thanks to a two-pedal control system for the hydrostatic transmission that provides simple speed control up to the near-18kph maximum. Other attractions include good all-round visibility and the strength to handle the professional-class equipment and implements that Valpadana retail dealers can supply.
The 1430 comes with a heavier duty front axle and improved four-wheel drive engagement. It also has a new engine – the three-cylinder Perkins 403C-11 diesel has an output of 26.4hp (19.4kW), which is almost 3hp (2.2kW) or 12% up on the previous model, giving the tractor livelier performance. The engine is also quieter, produces less vibration and is more economical with fuel.
Standard equipment on the Valpadana 1430, which is priced from £11,800 on turf tyres, includes 600kg capacity rear three-point linkage and two-speed (540/1000rpm) independent power take-off with smooth electro-hydraulic control.
An uprated front axle with improved four-wheel drive engagement, a more powerful engine and the new options of front linkage and pto feature on the Valpadana 1430 HST hydrostatic compact tractor.


This equipment can be complemented by fitting two new options. The 300kg capacity front-end linkage, which is priced at £959, could be used to handle a snow or small earth blade; with the single-speed (540rpm) power take-off added for £610, it can operate a power brush or flail mower.
For the ultimate in versatility, however, nothing beats the reversible drive version, priced from £12,299 on turf tyres. With this, the operator can set-up the tractor – literally in seconds – for whichever configuration best suits the implement being used.
Changing from forward to reverse drive involves nothing more than lifting the brake and hydrostatic drive pedals, tilting the seat forward and then pulling a locking pin to rotate the turntable on which the seat, instrument panel and main driving controls are mounted.
"The operator then has a clear, uninterrupted view of the implement and the way ahead, as well as the excellent manoeuvrability that comes with rear-wheel steering," points out Adrian Winnett. "It's easier to tackle nettles and thistles beneath trees and close to fences with a paddock topper and the material isn't run over first, so it makes a neat job."
Drivers wanting extra comfort can add a cab to the little tractor for £3528, giving protection against Britain's unpredictable weather.

John Deere HPX Gator wins ATV of the Year Award


SIMA 2007: Fendt demonstrates market leadership


Claas Quadrant Baler Grabs Gold at SIMA