Management Buy-Out of Cawood Scientific Ltd
2010-12-15
A successful management buy-out of Cawood Scientific Limited, the holding company for NRM Laboratories and Sciantec Analytical Services, has just been completed.
Members of the MBO team, managing director Nigel Patrick, left, with Linda Radnor, General Manager for the NRM business.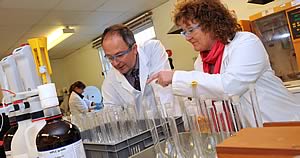 Announcing the deal, which was concluded on Monday 6th December, Managing Director Nigel Patrick said: "This is an exciting development for our customers and our 130 employees. We have secured £4 million of investment from NVM Private Equity Limited to support the continued expansion of the business and are looking forward to working with our backers as we move into the next stage of our growth. In particular this investment will enable my colleagues at both NRM and Sciantec to further develop the portfolio of analytical services provided to our loyal customer base. I am delighted to be leading Cawood at this important time."
Together NRM and Sciantec, which includes the former analytical business of Banbury-based Central Laboratories acquired in 2008, is the UK's largest truly independent provider of accredited analytical laboratory testing services for the land-based sector.
Cawood Scientific operates from two main facilities, NRM in Berkshire and Sciantec Analytical near Selby, North Yorkshire, both providing a 'one-stop-shop' of testing services for businesses engaged in the agricultural and environmental sectors and both with a high level of accreditation from the United Kingdom Accreditation Service (UKAS). NRM, specialises in the provision of a range of testing services for customers in the agriculture, horticulture, amenity, environmental and renewables (such as composted waste and anearobic digestate) sectors. Sciantec provides a complete range of analytical services encompassing all aspects of animal nutrition and health as well as combinable crops.

Two New Products Launched by Optivite


Shortage of Forage Fibre and Bicarb Exacerbating Acidosis Problems


Director Appointed to Edinburgh Animal Welfare Centre