Lloyds Banking Group Appoints Adam Henson as Farming Ambassador 2010-12-15
One of Britain's best known farmers, Adam Henson, is joining forces with Lloyds TSB Agriculture and Bank of Scotland to promote sustainable agricultural practice within the farming industry.
Adam Henson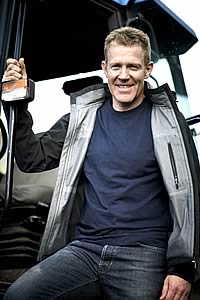 Well known as a presenter on the popular BBC television programmes Countryfile and Lambing Live, Adam is a second generation tenant farmer with a 650ha arable and livestock enterprise in the Cotswolds. Farming with long-term business partner Duncan Andrews, Adam runs a modern and progressive business and is familiar with many of the day-to-day challenges faced by farmers.

He is widely credited with doing much to convey a positive image of modern farming to a wider audience, and it is this public profile – aligned with his own experiences – that will underpin his new role as a farming ambassador for Lloyds Banking Group.

"Adam is first and foremost a committed and successful farmer, but his communication skills, progressive ideas and strong values make him an ideal partner to help the Group promote its core messages to the industry," explains Gareth Oakley, Lloyds Banking Group's Director of Agriculture. "Our close collaboration with Adam – who is a longstanding Lloyds TSB Agriculture customer – will also help us develop our understanding of farmers' business and banking requirements.

"We have over 180 staff throughout the UK focused entirely on working with farming businesses. Our over-riding aim is to help these businesses achieve long-term success and Adam's role in support of this will be of great value."

Since taking over the tenancy from his father, Adam has faced challenges familiar to many farmers, such as the impact of foot and mouth disease – particularly significant in 2001 for the business' Cotswold Farm Park attraction – grain price volatility and bovine tuberculosis. Working alongside Duncan Andrews, he has maintained a positive momentum in the business, through initiatives such as expansion, diversification, adding value and being generally open to new ideas.

"There are very few universal solutions or blueprints in farming, and I certainly don't profess to have all the answers, but through this collaboration I hope to bring some important issues to the fore," said Adam. "Lloyds Banking Group has a real commitment to the industry and I look forward to working together with them in the interests of greater farming sustainability."

Announcing the appointment at the Group's national agriculture conference, John Maltby, MD, Lloyds Banking Group Commercial, expressed his delight at Adam's appointment as farming ambassador.

"Adam's public profile and practical understanding of farming will help us promote our agri-food sector commitment and our sustainability credentials to a wider audience. We're looking forward to working with Adam on a range of activities including appearances at our customer charter events, and a forum on Adam's farm for influential blue chip companies in partnership with the Cambridge University Programme for Sustainable Leadership."

Building Firm to Act Fast on Collapsed Building Quotes


Which Renewable Technology is the Right FIT?


Winter Bites For Farmers!