Skipton Swaledale Show Success a Family Affair
2010-10-06
Swaledale ewes and gimmer shearlings – all 4,975 of them – made their annual excursion from the northern hills for the main seasonal breed show and sale at Skipton Auction Mart (Sat, Oct 2).
Debbie and Stuart Robinson with their champion pen of Swaledale ewes – a Christmas present from Debbie's parents, Michael and Ruth Pearson.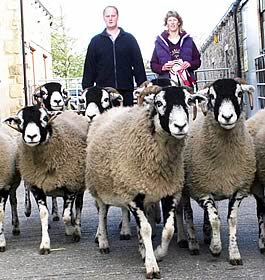 Strong demand was reflected in total clearance and an overall average selling price of £101.90p per head - up £31.91 on 2009.

With a packed ringside from start to finish – buyers had travelled from many parts of the country, the Peak District in particular - gimmer shearlings were particularly well sought after, levelling at £115.13p per head, while ewes of all ages levelled at almost £98.

Debbie and Stuart Robinson, who farm at Hesleden Lodge, Litton, presented the first prize pen of ewes and overall show champions, which were bred by Debbie's parents, Michael and Ruth Pearson, at Foredale Farm, Horton-in-Ribblesdale. Mr and Mrs Pearson, who retired from farming recently, also had the Skipton show champions in 2008.

The 2010 victors – a dual retirement and Christmas present to Debbie from her mum and dad - were raised at Foredale, where the Robinsons continue to run some 200 Swaledales. Eight of the ten-strong title-winning pen were by a ram from Robert Thornber, of West Stonedale, Tan Hill, who is himself now enjoying retirement in lower lying climes!
The packed Skipton ringside at the annual show and sale of Swaledale ewes and gimmer shearlings.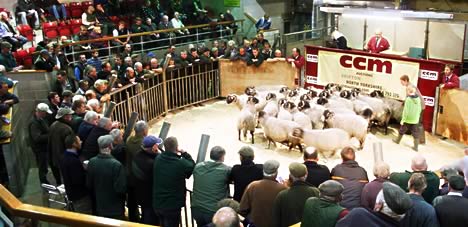 The champions headed the show prices at £190 per head when joining George Wainwright, of Bamford in Derbyshire. The Robinsons also sold pens at £130 and £120 per head, while Chris Akrigg, Cray, sold two pens of ewes to a high of £185.

The 2009 champion, Roy Nelson, of Lainger House, Bordley, this year had the settle for the reserve championship with the second prize pen of ewes, which sold at £175 each to Matthew Critchlow, Hartington. Third in class was John Bland, from Crowden, high in the Peak District, his charges acquired at £165 a head by Ron Critchlow, Hartington.

Best of the gimmer shearlings was a pen of ten from T M Harrison, of Cowling, which sold for £140 a head to Thomas Binns, of Downham, Norfolk.

Top price in class at £180 apiece fell to the third prize pen from John Stephenson, Bordley, which also found their way to Derbyshire with J Bellfield, Buxton. Saddle End Farms, Chipping, sold their second prize pen to fellow Red Rose breeders Jim Walker and Richard Alpe, Whitewell.

Judges were Keith Harryman, Keswick, and Richard Kitching, Threshfield.

Blue Faced Leicesters Steal show at Skipton Multi-Breed Highlight


Fort Forté to the Fore Again at Skipton Lleyn Show


Reigning Champions Rule at Second Skipton NEMSA Show