East Fourstones - an Expanding Farming Enterprise
2010-10-01
The Armstrongs at East Fourstones near Hexham, Northumberland have expanded their farming enterprise into agricultural contracting.
(Left to right) William, Robert and Stephen Armstrong and the contracting equipment.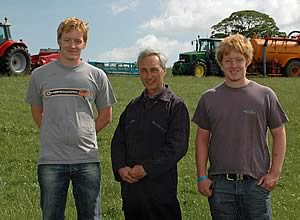 Robert and Anne Armstrong were joined on the tenanted beef, sheep and arable farm two years ago by twin sons William and Stephen after they completed their HNDs in agriculture at Harper Adams University College in Shropshire.
The 23 year old brothers saved the money they had earned during their year's work placement while at college - William on a large arable unit in Essex and Stephen working on a vast arable and vegetable growing estate in Nottinghamshire - and invested it in equipment for the new venture.
As well as purchasing a Kverneland five furrow reversible plough they also chose to buy less usual equipment in order to provide a specialised and increasingly sought after services.
They have a Veenhuis Terraject Disc 10,000 litre slurry injector with 6.5 metre workwidth. "It is 80 per cent more efficient to inject slurry and it is likely to be a future requirement in NVZs," said Stephen.
The Welger small square baler and Cook bale sledge and the Veenhuis slurry injector.

The injector can be used on both grassland and arable land and it has less taint of the grass meaning that the ground can be stocked sooner than after spreading with a conventional spray plate system.
The unit can spread 40,000 litres an hour and has a swinging draw bar which prevents the machine following the same track as the tractor to minimise ground impaction and damage.
Their other purchase is a Welger high capacity small square baler for both hay and straw which is coupled with a Cook hydraulic belt driven bale sledge which can handle wider swaths of grass.
"We have already had a lot of interest in the baler from both farmers and people wanting small bales for horses which we also sell ourselves," said William. They also carry out fencing work and offer tractor and man hire.
An earlier diversification 10 years ago took on board Anne's passion for horses and includes a DIY livery for six horses, an outdoor school and a mile long uphill training gallop which is regularly used by racehorse and point to point trainers and top event riders in the region.
Both William and Stephen share their mother's love of horses and this year William has been putting East Fourstones on the map winning prizes at shows with a skewbald cob both under saddle and in hand.
William and the six year old 14.1hh gelding Mr Foxtrot was third in the in hand class and fifth in the ridden classes on their very first outing at the Northumberland Show, followed by a fifth place at Richmond and a third place in hand at the Royal Highland Show.
The 340 acre farm has been run by the Armstrong family since 1936 and quiet and easy to manage Hereford cattle have featured for 40 years.
Hereford and Angus cross cows with their Hereford-sired calves at foot.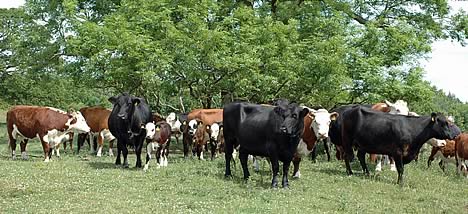 Seventy acres is cut twice for silage and barley for home use is grown on 60 acres while the rest of the farm is grazing ground for up to 290 head of cattle.
These include a herd of 27 suckler cows, 16 of which make up the pedigree Fourstones Hereford herd. Eventually all the cows will be pedigree Herefords and currently seven are home bred.
All the cows - the remainder are Angus cross Limousin - are put to the Hereford bull. Crossbred calves along with Hereford-sired dairy bred calves, mainly December to April born, which are bought in are finished at 22 to 26 months old and sold direct to Waitrose for its Hereford beef scheme.
Stephen, left, and William with stock bull Free Town Casanova.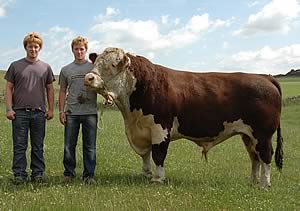 "We have had Hereford cattle from since they first came into the area. Prior to foot and mouth we had a Bluefaced Leicester flock but after 2001 we decided to concentrate more on cattle and we established the pedigree Hereford herd with cattle bought from John Douglas's Ervie herd at Stranraer," said Robert.

"The Hereford was just what we were looking for - they are so quiet and have a good temperament which is a big consideration when moving stock as we have a railway and a busy road crossing the farm. They are low input cattle and selling the majority to Waitrose makes us as much money as if we had Limousin crosses," he added.

The Armstrongs also favour the superior eating quality of the Hereford beef and continue to buy their beef from the home of the Ervie herd.

Each year the family shows cattle at the Carlisle May Hereford society sale and this year two heifers in calf to stock bull Free Town Casanova made 1,400 and 1,500gns each. They were by Ervie Standard Lad and Fourstones Paul.

Recently two females from East Fourstones went to help re-stock the herd run by the Elms private school near Hereford which had been lost to TB.

The farm has dry, light land which allows the hardy Hereford cows to be outwintered before calving from the end of March and into April. In the spring the land is then ploughed out for cropping.

The farm also used to carry a Mule flock but now to ease the summer grazing, draft Mule ewes are bought in in the autumn and sold the following May with Suffolk sired lambs at foot at Hexham Mart.

Stephen Armstrong can be contacted on 07833 197820 and William on 07920 884065.

South Country Cheviot Sheep at Home on the Hill


An Holistic Approach to Calf Pneumonia Control


The North of England Mule Returns to the Lowther Estate