Ritchey Launches New Range of Nutritional Supplements for Livestock 2010-10-25
Ritchey has launched a new range of nutritional supplements and complementary feedstuffs for livestock. The Exceed™ range of oral drenches and milk replacer powders has been designed to improve livestock performance at every stage of life, by reducing the risk of nutritional imbalance in young animals, and in grazing and forage fed livestock.
Exceed™ Lamb Colostrum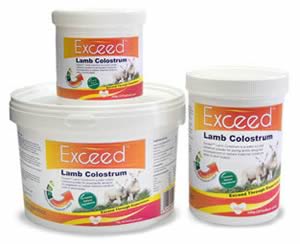 The Exceed™ range includes Multivitamin Sheep Drench and Multivitamin Cattle Drench, as well as Calf Rota Paste, a one-dose nutritional supplement containing vital antibodies. It has been developed to protect young calves against Bovine Rotavirus (types A and B), Corona Virus and several types of salmonella.

Early reports suggest that producers who have tried Exceed™ Multivitamin backpack drenches for their livestock have been pleased with the results, says Ritchey product development manager, Paul Hunter. They particularly like the 'easyflow' quality of the liquids. This quality has been achieved through the use of an emulsion-based formulation, which is not as viscous as molasses-based rival products, he explains.

"The ingredients and quantities used in our new Exceed™ range have been carefully selected, for ease of administration and to maximise the animal's potential to metabolise energy," says Mr Hunter.

"As well as containing a standard profile of multivitamins and trace elements in their most available form, our drenches also incorporate amino acids and prebiotics. The amino acids supplement roughage-based diets, by providing high quality available protein, while the prebiotics encourage healthy gut flora."

"At every stage of production, we have made good quality a priority. Our drenches have been produced with the specific aim of targeting animals that are suffering from a nutritional imbalance at a key point in their life cycle. Most other products do not include the same mix of soluble dietary fibres, natural antioxidants and amino acids that are found in the Exceed™ range."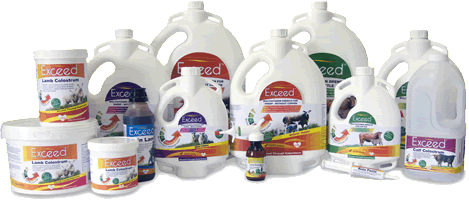 Also part of Masham, North Yorkshire-based Ritchey's Exceed™ range is Twin Lamb, for ewes carrying multiple lambs. It can aid recovery from nutritional stress, by providing a readily available source of energy and essential trace elements. Yeast has been added, to stimulate rumen function.

Meanwhile, Exceed Lamb Energiser's primary role is to supply the lamb with the energy it needs to stand and suckle strongly. A prebiotic has been added, to encourage healthy gut flora, along with high levels of vitamin E, to improve immunity and increase post-natal survival.

The final two products in the Exceed™ range are Lamb Colostrum and Calf Colostrum. As well as offering direct protection from bacteria and viral diseases, they contain gut-conditioning prebiotics, to improve nutrient digestion in weak or orphan lambs and calves. Antioxidants are included, to enhance the immune response, and promote energy production. This energy helps to keep young animals warm and minimise early deaths. The colostrums are available in single dose, ready to mix packs, which save time compared with using bulk-packed products.

Mr Hunter points out that the new colostrum replacers have been freeze-dried, a process which helps to retain vital antibodies and gives better water solubility. This production method compares favourably with some alternatives, which are produced using the cheaper – but less effective - option of spray-drying.

"At Ritchey, we are aware that difficult trading conditions have forced livestock producers to look carefully at their input costs, and try and make savings, wherever possible.

"However we believe that cutting corners, by failing to provide animals with the nutrients they require for maintaining a high standard of performance, is a false economy. That is why we have spent many months working with scientists, to ensure that our products provide an ideal supplement for grazing and forage fed animals at times of peak nutritional stress," he concludes.



Investment at Carmarthen Feed Mill to Reduce Energy Consumption


Kiotechagil Launches Neutox - A New Integrated Mycotoxin Elimination System


NuShield Offers Improved Immunity and Cost-Effective Benefits