Countryside Live Show Jumping Has The X Factor
2010-10-07
Entries for the new X Factor-style show jumping competition at Countryside Live have been flooding in. Since the competition's launch last month (September) equestrian enthusiasts from as far away as Suffolk, Wales and Scotland have been submitting their entries and will be heading for the Great Yorkshire Showground, Harrogate for the event on Saturday 23 and Sunday 24 October.
Graham and Tina Fletcher running their Master class at
Countryside Live 2009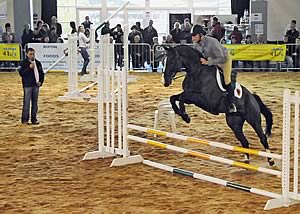 Over the two days, experts Graham and Tina Fletcher will be putting the competitors through their paces in a number of heats, with the final taking place on Sunday afternoon.

The course will be tailored to each rider's experience and ability and will vary from competitor to competitor. And for the winner, there's the offer of a day at the Fletcher's yard, plus £300 in prize money.

Bill Cowling, Honorary Show Director said: "This is the chance for aspiring riders to receive tuition from a couple who are amongst the best in the business, and of course the opportunity to learn and develop their riding skills. It's sure to be entertaining but also informative for both spectators and the competitors."

Graham, who began his riding career at Thirsk, has won many of the top equestrian accolades. His successes include an Olympic Silver medal, team member for three Olympic Games and winner of most of the International Grand Prix competitions. Tina is Britain's leading lady rider, and will be coming to the show virtually straight from competing in the World Equestrian Games in Kentucky.
The competition is sponsored by Bishop Burton College.

East of England Winter Stock Festival to Smithfield Rescue


Crop World 2010 Gears Up for London


English Winter Fair Looks to Fill Gap Left by Agrilive Demise