New Beef Line-Up Puts Cogent at the Forefront of the UK Beef Industry 2010-10-06
Excitingly, for the first time Cogent have gone full throttle and launched an extensive new range of beef bulls worth over £400,000.
Wilodge Drummer, one of Cogent's top Limousin bulls.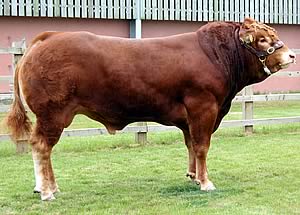 With one of the most comprehensive beef ranges on the market, and with bulls to suit both beef and dairy breeders, Cogent have an unstoppable selection of fifteen different beef breeds.
From Aberdeen Angus to Hereford, Limousin to Salers, whatever your requirements, Cogent's extensive range guarantees to find a bull to suit your needs.
The quality and diversity of Cogent's bloodlines speak for themselves and it's fair to say, when browsing through their new beef catalogue, that the company mean business.
For the pedigree beefmen, Cogent have a hand-picked 'Supreme Beef' collection of the finest quality genetics. An example of one of these outstanding proven sires is Aberdeen Angus, Netherallan Peter Pershore. Whose first eleven sons averaged over 12,000gns at auction.
Charolais bull, Fairway Bruce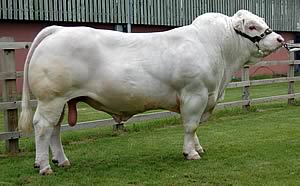 'For the dairy farmer, Astbury Darral, Bringlee Dazur and Auchenlay Echo, are all-white British Blue bulls – selected to give a blend of small birth weight, excellent conformation, weight gain, muscle development and easy calving' says Boomer Birch, Cogent's Beef Specialist.

Also of note is the outstanding Charolais, Fairway Bruce who is a strong sire with fantastic muscle scores, conformation, who has stunning pedigree progeny already on the ground.

As the leaders in sexed semen and with the most robust and reliable product on the market, Cogent also offers sexed male and female beef semen. Intuitively with their solid beef range, Cogent have tapped into the demands of the beef market by offering this specialised product that allows farmers to tailor their breeding plans to readily satisfy buyer requirements.

Sexed beef semen is currently available from British Blue, Charolais, Limousin, Simmental and Salers breeds.

With this new range now on the market, it brings a refreshing choice to beef semen buyers.

Simmental Bulls Reach 2,800gns at Dungannon


National Beef Calf Supply Stabilises


Brecon and Radnor Suckled Calf Rearers' Farm Walk