World Record Price Twice Shattered at Skipton Working Dogs Sale
2010-07-20
The world record price for a working sheep dog paid at an official sale was shattered not once, but twice at Craven Cattle Marts' summer fixture at Skipton Auction Mart. (Fri, July 16)
Aled Owen with Llangwm Rex, his joint top-priced Skipton dog and world record holder at 4,900gns.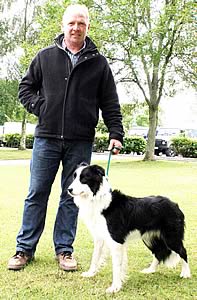 Two dogs were each knocked down for 4,900 guineas - £5,145 – to smash the previous world record price of 4,100gns (£4,305), also achieved at Skipton in 2004 for a two-year-old black and white bitch from then 20-year-old Lancastrian handler Tom Lawrenson, of Brindle, Chorley.

The two new record holders are both held in high renown in the world of sheep dogs. Welshman Aled Owen, of Penyfed, Ty-Nant, Corwen, Denbighshire, is the reigning World Sheep Dog Trials champion, while Yorkshireman John Bell, of Parks Farm, Howden, Selby, is one of the country's leading handlers and cultivators of sheep dog talent.

Mr Owen was first to set a new world record price with his talented and fully home-bred 26-month-old black and white Border Collie Llangwm Rex. The purchaser was another Welshman Nigel Watkins, of Panthowel Lodge, Llanddeusant, Llangadog, Carmarthenshire.

Mr Watkins has represented the Welsh National team in international trials on many occasions, has twice won the Welsh National, twice been placed in the top four in the International Supreme and was Reserve World Champion in 2005. He also sells dogs all over the world.

Rex is by Gwyn, who acted as lead demonstration dog on sheep dog training courses run by Mr Owen at his North Wales home. Now 11-years-old, Gwyn is enjoying semi-retirement, though is still being used as a farm dog by Mr Owen's brother Eifion.

Rex's mother Eli is a daughter of Bob, who gave Mr Owen the first of his two World Trials wins at the inaugural event in 2002. He has represented his country on numerous occasions and has also been Welsh national champion three times, as well as landing three supreme championships.

A full brother of Rex, the five-year-old Max, reserve Welsh champion last year, along with his seven-year-old Roy, the reigning world champion and 2007 supreme champion, are Mr Owen's main hopes on the trials field this year.

He also hopes to qualify to defend his title at next year's International Sheep Dog Society World Trials, to be held in England for the first time at Lowther Park Estate, near Penrith in Cumbria, from September 15-18, 2011.


John Bell with Ron, his joint top-priced Skipton dog and world record holder at 4,900gns.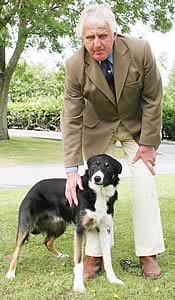 Back at Skipton, plenty of potential buyers remained until late in the day in anticipation of the appearance of John Bell's 14-month-old tri-coloured dog Ron, who was bred in Northumberland by Mike Northwood – the sire is Chuter and the dam Molly - and joined Mr Bell as a puppy.

Ron also became the joint world record highest price holder when joining a Perthshire-based Scottish buyer, who requested anonymity.

Mr Bell was heading the prices at Skipton for an unprecedented 15th time. The renowned handler said the two dogs entered for the latest sale were probably the best he had ever brought to the North Yorkshire venue.

His subsequent entry, an April 2009-born tri-coloured bitch Floss, also performed well when knocked down for the second highest price of the day at 3,900gns (£4,095) to a west coast of Scotland hill farmer, who also requested anonymity.

Red Rose handler Shaun Richards, of Hapton, Burnley, who regularly achieves high prices with his dogs at Skipton, again did well with his 23-month-old red and white bitch Marchup Natalie – fondly know at Nat.

She sold for 3,400gns (£3,570) to a telephone bidder from the Shetland Isles, who will use Nat as a flock dog. She is by Rick, bred by Alec Baines, of Kirkby Stephen, out of Sky, from Andrew Throup, Silsden.


John Bell's Ron, the joint top-priced Skipton dog and world record holder at 4,900gns.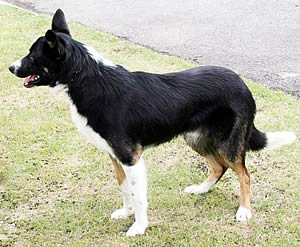 On her first-ever visit to Skipton, Miss Jacque Brownlie, from Piperpool, Alloa, had an excellent result when her 22-month-old tri-coloured bitch Baledmund Zazoo was knocked down for 3,300gns (£3,465) to Cumbrian buyer Arthur Temple, of Moorside,Holmrook, Whitehaven.

Zazoo was bred in Scotland. Her father is Hope, from Walter McAllister, who is based in the village of Drymen, east of Loch Lomond, out of Baledmond Gyp, from Jimmy Menzies, of Pitlochry. Mr Temple, who represented the English National team five years ago, plans to run his new acquisition in trials, initially nurseries, before progressing to open competition.

The Irish were also well represented. Seamus Gormley, of Kilcreen Sheep Dog Centre, County Derry, achieved a price of 3,050gns (£3,202) for his classy January, 2008-born black and white bitch Mist. The Scottish purchaser requested anonymity.

Mist is by Moss, bred by Welsh trialist Huw Francis, of Penllwyn. Moss has produced some quality progeny, several of which have sold well at Skipton in the past. Moss goes directly back to Mr Gormley's own breeding lines, being a grandson of his own Buddy, himself a son the legendary Highgate Ben. Mist's dam is EI Jones' renowned trials dog Sooty.

Southern Ireland vendor Tony Kearins, of Dromard, County Sligo, achieved a price of 2,850gns (£2,992) for his October, 2008-born tri-coloured bitch Dot, who has to date won an intermediate trial and been placed in nurseries. She joined Derbyshire handler Maurice Gregory, of Peak Forest, Buxton.

Keeping it in the same family, Ian Gregory, also of Peak Forest, paid 2,800gns (£2,940) for a 12-month-old black and white bitch from County Antrim breeder Ivan Stevenson, of Ballymena. She is by Mr Stevenson's own Jim – "my best dog ever" - who has won two open trials in Ireland, out of his own Meg.

A second Dot, this time around a three-year-old black and white bitch shown by Welshman Gareth Jones, of Llanwddyn, Powys, headed north across the border when sold for 2,700gns (£2,835) to first time Skipton buyer Colin Kennedy, a crofter from the Isle of Coll, Argyll.

She was bred on Deeside by David Connah, Howarden, and now has a future as a working dog on Mr Kennedy's 150-strong flock of Texel-x-Cheviots. "You would think she had been here all her life. I couldn't be happier," he said.

John Kennedy, of Dunoon, Argyll, presented his 27-month-old tri-coloured dog Spot, who became another Nigel Watkins acquisition at 2,600gns (£2,730).

Television cameras from the BBC's 'One Man and His Dog' programme, along with presenters Kate Humble and Gus Dermody, were present at the sale to film Welshman Emrys Jones, of Gwynedd, as part of their film on how to buy and sell a dog, covering the sale of his 17-month-old black and white bitch Hiraethog Jess.

Jess found a new home on a Scottish hill farm near Moffat, Dumfriesshire, when joining Niel Manning for 2,500gns (£2,625). Niel has now bought a total of three dogs at Skipton and will use his latest acquisition on his Blackface sheep flock.

A second dog to sell at 2,500gns was Isle of Arran-based Wullie Stephenson's fully home-bred black and white bitch Arran Daisy, by Bill out of Nell, sister of Mr Stephenson's 2005 Scottish Nursery champion Molly. She found a new home in Wales with John Roberts, of Betws-y-Coed, Conwy.

Of the 72 dogs sold on the day, quality dogs performed exceptionally well, with a total 17 dogs topping 2,000gns. The average price of £2,345 for the 35 broken registered dogs sold was again an out-and-out mart record for the second sale in succession.

Unregistered broken dogs sold to £1,450 (av £1,075), part-broken registered dogs to 1,300gns (£578), part-broken unregistered dogs to 600gns (£490) and unbroken dogs to 290gns. Pups sold to 200gns (£137). The next working dogs sale at Skipton, the early winter fixture, is on Friday, October 29. Entries close on October 15.

Towers Four-Timer at Skipton Prime Shows


Title Win for Frankland Farms on Craven Dairy Auction Debut


Sisters Share Top Billing at Skipton Working Dogs Sale