Jersey Cream Teas Clear All the Fences
2010-07-21
The Jersey Pavilion at the Great Yorkshire Show has taken on a cult status among the professional showjumping fraternity, and their followers. The sumptuous cream teas provide daily fare for the household names of the sport.
(l to r) Robert Bevis, Robert Whitaker, Dave Quigley, Peter Murphy, Rebecca Jarvis, Ann Shaw (Jersey Breeders) Robert Smith and Geoff Billington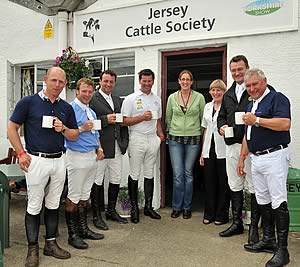 The reputation for the food gained rapid momentum following a 'Ten facts about John Whittaker' report where he named the Jersey Pavilion as his 'favourite eating place, describing it as a hidden treasure.'
Using milk, cream, butter, cheese and yoghurt from Jersey cows the teas are prepared by breeders' wives in the region. The milk from Jersey cows is renowned for its rich colour and flavour which gives a wholesome meal.
Preparing food for the Great Yorkshire has grown considerably from simply providing refreshments for the Jersey cattle exhibitors. For the showjumpers it has the added advantage of being near the collecting ring and right by the 'bridleway' to the stables.

The Great Yorkshire Show Ends on a High


Finalists Announced for Children's Veg Box Competition


Only Days to Go and All Set for Great Yorkshire Show