Hat-Tricks Double at Skipton Prime Shows
2010-06-09
Outstanding championship hat-tricks were the highlight in both the June prime cattle and lamb shows at Skipton Auction Mart. (Mon, June 7)
David Bamforth is pictured in the Skipton ring with his June prime cattle champion– his third in consecutive months.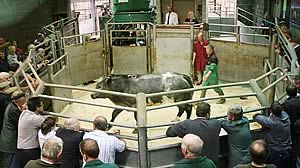 David Bamforth, of L Bamforth & Sons, Wainstalls, Halifax, exhibited the prime cattle champion for the third month in succession, while the same feat was achieved in the prime lamb classes by Robert Towers, of JD & V Towers, Farleton, Lancaster.
Mr Bamforth has exhibited the title winner at all but one of Skipton's monthly prime beef shows in 2010. His latest victor, the first prize 22-month-old 590kg British Blue-cross bullock, was once again knocked down to James Robertshaw, of Keelham Hall Farm Shop, Thornton, Bradford, for the top price of £1,230 (208.5p per kilo).
The shop, which has a long-standing policy of sourcing prime quality meat from local farmers, was purchasing its fourth Bamforth Skipton title winner of the year for the award-winning butchers department. For good measure, Keelham Hall Farm Shop also acquired Mr Bamforth's second prize 465kg heifer for £876 (188.5p.kg)
David Bamforth was also responsible for the reserve champion, another British Blue-cross bullock, which weighed in at 515kg and sold for £872 (169.5p/kg) to regular Skipton buyer Gerald Medcalf, of Halifax.
Local exhibitors John and Alison Spensley, of Thorlby, sent out the third prize 605kg bullock, which sold locally for £934 (154.5p/kg) to James Dewhirst, on behalf of Stanforth Butchers, Skipton, which often purchases Spensley cattle.
Brian Lund, of Walshaw, Hebden Bridge, saw his 13-month-old 550kg British Blue-cross heifer take first prize in class and head the prices when bought for £959 (174.5p/kg) by John Bowling, Ashton-in-Makerfield, on behalf of Johnson's Butchers, Hesketh Bank, Preston, who also acquired Mr Lund's third prize 545kg heifer for £901 (165.5p/kilo).
Robert Towers exhibited the champion and reserve champion pens of five Charollais-x-Beltex prime lambs, which both headed north of the border when purchased on behalf of Vivers Scotlamb, Annan. The 39kg victors sold at £92 per head and the 40kg runners-up for £89.50 each.
Mark Evans, Steeton, sent out the first prize pen of 46kg Suffolk lambs, which joined Saltaire butcher and regular Skipton buyer Richard Binns for £106 a head. The 849 Spring lambs forward averaged £77.80 per head (196.79p/kg)
The prime cattle show was sponsored by Philip Bolland Trailer Training and the prime lamb show by Guy Machinery.

Sisters Share Top Billing at Skipton Working Dogs Sale


97% Clearance Achieved at Skipton Limousin Highlight


Commercial Youngster Champion at Northern Limousin Extravaganza