Yorkshire Freehold Farm for Sale
2010-06-10
The Shiptonthorpe office of George F. White has announced the sale of Mowthorpe Farm, Hackness near Scarborough which they say is, "A once in a lifetime opportunity for someone to buy their own slice of the very best rural England and Yorkshire has to offer in the most tranquil of settings."
Mowthorpe Farm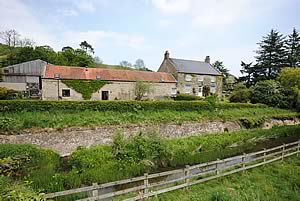 Mowthorpe Farm set at the entrance to the beautiful Forge Valley at the foot of the North Yorkshire Moors is a productive mixed arable and livestock farm. At 336.72 acres, this is an extensive piece of land for this part of North Yorkshire which incorporates the majority of the valley's arable land.
As it is exceptionally rare for freehold property and land in this area to come onto the market, the selling agents are expecting a huge amount of interest. The freehold sale has only been made possible as a result of the retirement of the current farmer Mr Hird whose family have farmed Mowthorpe for the last 2 generations.
The sales includes 336.72 acres of land, a traditional 5 bedroom stone farmhouse, a four bedroom cottage and a mixture of modern and traditional farm buildings. It is for sale as a whole or as eight separate lots with a guide price of £2,200,000.
Accessed by a stunning drive up through the Forge Valley, the productive mixed farm nestles in a well sheltered and well hidden valley at the foot of the North York Moors. The slopes of the valley are grazed by the farm's extensive flock of sheep whilst the arable land (extending to 197.68 acres) of deep loamy soils produces good yielding combinable crops and potatoes.
Commenting on the sale, selling agent Tom Mason of George F. White's new Shiptonthorpe office said: "This really is a unique opportunity, the chance to buy a freehold farm like this does not come onto the market very often, and normally they are passed down through the family. The farm covers most of the arable land in the valley and is already proven as being very productive. The soils are very productive and support a potato crop rotation, which is unique within the valley. It also benefits from a secluded and beautiful location with the wonderful River Derwent ambling through the valley floor, yet having local centres such as Scarborough within 6 miles. Quite simply if you could imagine everything you would want in a farm this would be it."
Valley view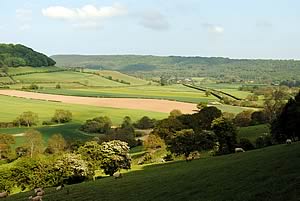 The accommodation includes a five bedroom traditional farmhouse with stunning views south looking into Forge Valley. There is also a four bedroom cottage which is a converted traditional barn. There is an extensive range of traditional stone buildings in good condition suitable for many alternative uses subject to the necessary consents from the National Parks Authority.
Mowthorpe Farm is south of the village of Hackness, just above the Forge Valley and within the North York Moors National Park. Scarborough is less than six miles and the city of York which is served by the east coast railway line is only 40 miles.
The property is available by private treaty with a guide price for the whole of £2,200,000. For further information or to organise a viewing please contact Tom Mason at the Shiptonthorpe office of George F. White on Tel. 01430 876010 or visit www.georgefwhite.co.uk

Farming Opportunity in Redesdale - Raylees Hill Farm


Julian Smith MP Supports Yorkshire Young Farmers County Show


New Grassland Management Regime for Caithness Monitor Farm