Ainsley Harriott Selects Extra Special Asda Steaks at Royal Highland Show 2010-06-30
Celebrity chef and one of Britain's best loved TV cooks, Ainsley Harriott, joined forces with Asda's senior meat buyer Jim Viggars at the Royal Highland Show last week to judge the Asda/ABP steak competition.
Winning ABP producer Edward Scott (centre) with Asda's Jim Viggars and celebrity chef Ainsley Harriott who judged the Asda/ABP steak competition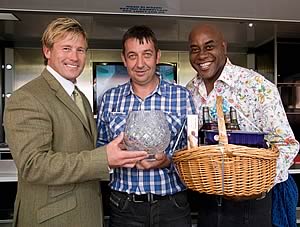 The competition saw ABP beef producers submit 30 cattle in total for the competition with 12 sirloin steaks reaching the final judging process. These steaks were then judged on quality, texture and flavour by the judging panel.
Winning the competition was Edward Scott, of Linross, Glamis, who took the honours with a 14-month-old Limousin cross bull grading U+2 with a daily deadweight gain of 0.85kg.
Runners-up were Watson brothers, Croftgarry, Aberdour, with a 24 month old Charolais cross heifer weighing 354kg and graded U-2, while third place went to Gill and Company, Brucefield, Portmahomack, with a 13 month old Charolais cross bull weighing 364kg and graded E2. This one had a daily deadweight gain of 0.92kg/day.
Steaks for the competition received the same treatment as the Asda Extra Special range which was recently judged the best retail steak by Delicious magazine. All steaks in the Extra Special range are matured for 28 days and selected from cattle produced to exacting standards by Asda's dedicated beef producers in its BeefLink group.
Discussing the results, Mr Viggars said: "Asda believes there is a correlation between young bulls and tenderness and this competition has shown just that. The winning and third prize steaks were both from young bulls with high daily weight gains. Not only is this ideal for producers in terms of maximising growth rates in a short space of time, there is also a positive link in terms of tenderness and eating quality.
"Coupled with this, high daily weight gain is a major factor in beef models for reducing the carbon footprint of beef production. Increased daily weight gain leads to production efficiency which often goes hand in hand with a low carbon footprint," adds Mr Viggars.
*The second of the Asda/ABP steak competitions will be held on the Asda stand at the Great Yorkshire Show on July 13th at 1pm. Again, celebrity chef Ainsley Harriott will be joining forces with Asda's Jim Viggars on the judging panel.

Martin Donaghy Elected British Charolais Cattle Society Chairman


Once-A-Day Calf Milk Feeding Can Save £6 per Calf


Asda Targets Wagyu Beef at Younger Generation Beef Producers