Northern Ireland Blonde Lifts Carlisle Top Honours
2010-05-12
Northern Ireland breeder Dominic Dorman and his family secured the top honours and top price at the Blonde Society spring show and sale at Carlisle.
Coole Damian - 4,700 guineas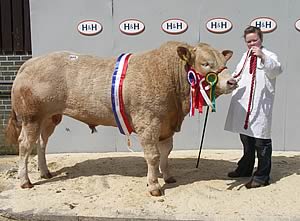 Their home bred entry, Coole Damian, lifted the senior male championship along with the supreme champion award at the pre-sale judging. Sired by Glenvale Billy and bred from a Druk Lance daughter Coole Annie, who was intermediate heifer champion at Balmoral Show in 2007. Damian sold for 4,700gns and was purchased by J & K Metcalfe of Barningham, Richmond.
Regular consignors Peter and James Weightman of Co.Durham, sold their 18 month old entry Hallfield Duke for 4,600gns. Sired by their senior stock bull, Blackwater Ainsley, and out of Hallfield Uproar a Megray Serendipity daughter, he sold to J King of Thornton Hall, Glasgow.
Hillhead Dazzler - 4,000 guineas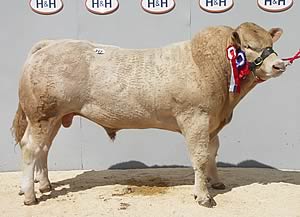 Reaching 4,100gns was the first of two bull entries from Hillhead Blondes of N.Ireland. Hillhead Drogba, bred from the Tiranna female line and sired by the carcase bull Sauveur, he now travels to south west Scotland for A Baillie of Newton Stewart.
Following close behind at 4,000gns was the second of the Hillhead Blondes entries. Hillhead Dazzler, a Palace bred entry and out of Hillhead Popstar whose breeding has three RUAS breed champions included in it. Dazzler was knocked down to TB Moorhouse & Sons of Wark, Northumberland.
Ark Dora - 3,800 guineas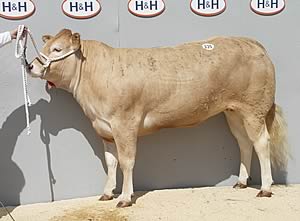 In the female classes it was the same pattern of interest as the males . It was the female champion and reserve female champion from Alan Keith of Newcastle upon Tyne that lifted the female championship. His entry, Ark Dora an incalf heifer by the noted Druk Lance and served by Whitefield Leader, sold for 3,800gns to Alan Hall of Darlington.
Following was the reserve female champion entry consigned by RG Davies of
Lampeter, Ceredigion. She sold open and carries a wealth of breeding which features many noted bloodlines as Ashtonlodge and Whistley . Fronfedw Dime was knocked down for 2,300gns and goes to Andrew Bailey of Kendal.
Averages
04 senior bulls £3202.50
13 junior bulls £3473.08
17 bulls £3409.41
12 served and maiden heifers £1592.50
Auctioneers: Harrison & Hetherington

Carlisle Charolais Bulls Peak at 26,000gns


Rawburn Sell Top Angus Genetics in Private Sale to New Breeder


Charolais Sell to 5,500gns in Stirling Multi-Breed Sale