Carlisle Limousin Bull Trade Tops at 34,000gns
2010-05-05
At the British Limousin Cattle Society's 27th Carlisle May Sale, held at Borderway Mart on Saturday 1st May 2010, Cumbrian breeder, George Hutton of the Cloughhead herd, based near Keswick, Cumbria, secured the top price of the day with his junior bull 15 month old Cloughhead Ernie.
Cloughhead Ernie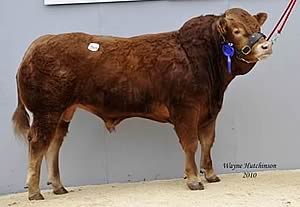 Ernie is an outstanding son of the noted Objat sire and was bred from one of the herd's best cow families which goes back to the great brood cow Ruadh Thelma. Selling for 34,000gns, Ernie caught the eye of fellow local breeders Matt and Craig Ridley of the Haltcliffe herd.
Following at 26,000gns was a black Limousin bull shown by Harry Emslie of Aberdeenshire. Emslies Black Empire is a February 2009 born son of the 25,000gn black sire Bailea BMW and bred from a Ronick Jalopy sired daughter. Black Empire lifted the Reserve Junior award along with the Reserve Supreme Championship ticket the day before. He sold to the Knock herd of Albert Howie from Peterhead.
The event's Reserve Intermediate Champion followed next in the price listing at 20,000gns. Millgate Derry was consigned by Northern Ireland breeder Michael Loughran of Co.Tyrone. Sired by the noted bull Sympa and out of Brookland Tulip a Ferry daughter, Derry sold with a beef value of LM+37 and was knocked down to Bryn Owen for his Vaenol herd based near Gwynedd.
An eye catching pen of bulls from David and Maggie Kelly of Netherhall Farm Ltd topped at 20,000gns. It was one of their junior entries that reached the top mark for them Netherhall Doubleoseven. Sired by their former herd sire Fieldson Alfy and bred from a Nenuphar daughter Sarkley Belltoya, Doubleoseven sold with a high beef value of LM+46 and travels north to Kincardineshire for Jim Gammie to join the Westpit herd.
In the female sale it was a limited edition Requin sired daughter that took the lime light selling for 22,000gns. Shown by Northern Ireland breeders McKinney Bros of Co.Londonderry, their 19 month old heifer Heathmount Dazzler is one of the last Requin daughters to be offered for sale, combines Ronick Gains and the noted brood cow Sarkley Nellie in her mothers pedigree. She joins the Ironstone herd for Smiths of Bloxham.
Averages :
43 senior bulls £3997.50, 61 intermediate bulls £4945.33, 47 junior bulls £7425.11.
Auctioneers: Harrison & Hetherington

Aberdeen-Angus Stirling Trade Tops at 6200gns


Charolais Bulls Break Centre Records at Holsworthy


Worcester Blondes Sell to 3,900 Guineas