Great Yorkshire Show Set for Outstanding Equine Entries
2010-04-14
New classes and record prize money mean equine classes at the Great Yorkshire Show are set to attract an exceptionally high calibre of competition this year.
A private driving exhibitor at the Great Yorkshire Show 2009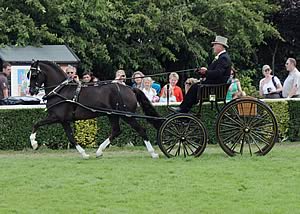 The three-day event, which takes place from Tuesday 13 to Thursday 15 July in Harrogate, North Yorkshire, is England's premier agricultural show and is expecting around 2,000 entries in the equine section alone.

A great chance to see outstanding examples of different horse breeds, it is always hugely popular with visitors and this year offers prize money totalling £46,434.

New for 2010 is the Top of the North Supreme Championship, with a prize of £1,500 for the supreme ridden horse of the show. Sponsored by leading Yorkshire horse feed company, TopSpec, the inaugural winner will be announced in the Main Ring on the Thursday afternoon during the Show. The Reserve will receive £250.

Champions from the Novice Ridden Hunter, Ridden Hunter, Working Hunter, Ridden Coloured, Ridden Cob, Riding Horse, Ridden Mountain & Moorland and winners from the Ladies' Side Saddle, Small Hunter, Four-year-old Hunter, Retrained Racehorse and Ridden Irish Draught classes will all qualify.

The premier in-hand class, the prestigious Cuddy Supreme Championship, will again be drawing the highest quality entries from across the country. A qualifier, for the Horse of the Year Show, it is judged on the final afternoon.

The Retrained Racehorse class is another new introduction, sponsored by Mark Johnston Racing, with the top two places going forward to the 2011 Hickstead Derby meeting.

Another addition this year is First Ridden Mountain & Moorland for mares or geldings aged four or over, with a rider aged under 12 by the start of this year.

Bill Cowling, Honorary Show Director, said: "The Great Yorkshire Show is renowned for the quality of entries it attracts to its equine classes. As England's premier agricultural show we're delighted to be able to showcase some of the finest examples of different horse breeds to be found anywhere in the country and look forward to some fierce competition."

Ridden Hunters, Shires and Private Driving are also very popular classes attracting both the crowds and strong entries. The ever-lovable Shetlands, donkey classes and children's lead classes will also take place over the three days, with entries expected to be high in all areas.

Deadline for entries into the equine classes – Tuesday 4 May 2010.

The Cuddy In-Hand Supreme Championship will be judged in the White Rose Ring from 2pm – 3pm on Thursday, 15 July.
The Top of the North Supreme Ridden Championship will be awarded in the Main Ring at 2.50pm on Thursday, 15 July.

Comprehensive Display of Beef Breeds at Beef Expo 2010


Innovations in Action at Dairy Technology 2010


NSA Sheep 2010 Announces Major Sponsors