Heavy Horseman is Champion of Champions Judge
2010-03-29
Recently retired Chief Steward (Agricultural Horse Section) Matt Robinson of Humshaugh has been appointed as this year's 'Champion of Champions' judge at Northumberland County Show on May Bank Holiday Monday 31st May.
Matt Robinson, recently retired Chief Steward
(Agricultural Horse section) and this year's Northumberland County Show 'Champion of Champion's judge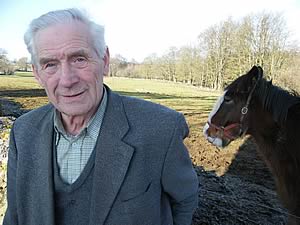 Matt, like his father before him, has a tremendous fondness for the agricultural heavy horse but has always kept them 'for a hobby' away from the main business of farming; initially pure Friesians giving way to Holsteins in later years and Blue Faced Leicester sheep.

Growing up amongst a five brother strong farming family in the locality, Matt has become well known over the years for showing; once achieving as many as 13 championships in 13 shows in the same year, but it is his Clydesdales that have always been the talking point, often showing and selling on the same day, and more often than not to the judges themselves. Many of his 'offspring' have been successfully exported and currently thrive in the USA. (One particular mare was used by Border Fine Art to model their popular ceramic sculpture 'Mare and Foal')

Matt has been involved with the show as a committee member since 1984; he has judged local shows and the sheep section at the Great Yorkshire when not showing himself and has a good eye and working knowledge of the finer points and breed standards of all cattle and sheep and of course horses. 'I'm not so familiar with the alpaca' he admits 'but I'm finding out what I should be looking for!' Poultry will be making their first appearance this year on championship row but won't cause him any doubt about his final choice. Simply, Matt says he will be looking for 'quality'. He is looking forward to the experience although he admits 'I usually like to be at the back making my own comments!'

A new class within the sheep section should present no problems to Judge Malcolm Corbett of Rochester, as the Northern England regional representative for the British Wool Board (and chairman of the NFU's regional livestock board).

The new 'Best Wooled sheep' class will allow Malcolm to 'browse all of the sheep within all the classes during judging periods to assess the animal with the best wool (not necessarily one of the Champions)'. Malcolm will be choosing the finest wool amongst a selection of Blackface, Swaledale, Bluefaced Leicester's, North of England Mules, Suffolk, Texel, Continentals and Zwartbles and being familiar with all breeds and their particular and very different wool qualities, he will be looking for the finest quality of its type, rather than in layman's terms – the most woolly sheep!

This is a class where only mature sheep are eligible 'All young animals have good wool but we may find that the best quality wool might be on an older Swale, it may not be worth as much in monetary terms as a Leicester, but it may be of a finer quality. I'll be looking for a fine wool free from kemp (coarse hair)' he says.

Wool is experiencing something of a resurgence and again has a promising fashion end use rather going to the carpet and home insulation trades, especially with recent prohibitive (to them) price rises. Malcolm explains 'the market had been in decline because of our throwaway society's demand for synthetic fabrics. Recent efforts by HRH Prince Charles and 'The Wool Project', launched in January this year have highlighted its qualities and attracted high end fashion designers as well as major value clothing suppliers like Tesco. Wool is attractive again, it is environmentally friendly and has a carbon free footprint compared to oil based produced synthetic fibres; also, there are less sheep around, so its rarity is actually increasing demand.'

Schedules for all sections for this year's show on 31st May and now available on the show's website www.northcountyshow.co.uk and on application from the show's offices within Hexham Mart (also by phone on Tel: 01434 604216) Main livestock entries close on May 1st. Trade stand space now fully booked (250 stands).

The Dairy Event and Livestock Show on Relocation to NEC


Carlisle Poultry and Waterfowl Spring Sale


Pig and Poultry Fair Puts Shoppers On The Spot