2010-03-08
CLA Wales has welcomed the findings of a Welsh Assembly Government report which recommends ways in which agriculture and rural land use in Wales can help reduce greenhouse gas emissions.
"The long term scenario may involve livestock being housed, with zero grazing and methane capture."
photo © roundhouseltd.co.uk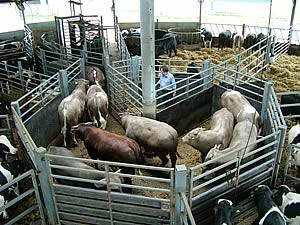 The rural economy experts urge that the findings should be accompanied by planning and wider support in order to incentivise farmers. They say it's good news that the report's emphasis is on maintaining intensive dairy, sheep and beef sectors, while diversifying and increasing vegetable crops - to simply say: "Stop eating meat." would just export the problem.
The report recommends a set of initiatives by which Wales can maintain its food production potential while, at the same time, cutting emissions. These include using anaerobic digestion to reduce methane emissions; more efficient use of manure, fertilisers and energy; expanded woodlands and the development of renewable energy sources.
CLA Wales is a member of the Land Use Climate Change Group set up by Rural Affairs Minister Elin Jones and chaired by Professor Gareth Wyn Jones as part of the programme to meet the One Wales agenda CO2 emissions target.
A CLA Wales spokesman said : "Our main concern is that we must not export the problem elsewhere. We're urging politicians not to just say: Stop eating meat.
"We favour an incremental improvement, with farmers becoming more energy efficient; with changes to ruminants' diet; building insulation; methane capture for heating; coming out strongly with a positive policy for the future.
"We should also go for more tree planting now so that in twenty years time, trees will become a net sink. There is also a need for micro generation in all forms: anaerobic digestion and other measures should all be encouraged.
"They are useful and additional income earners. The long term scenario may involve livestock being housed, with zero grazing and methane capture."

Climate Change in a Climate of Change


Cumbrian Opportunities for Renewable Energy


Whitebred Shorthorns to Graze Penwith Moors