Carlisle Blondes in Demand
2010-03-08
Northumberland breeders Peter and James Weightman of the Hallfield herd based at Peterlee secured the leading price of 7,000gns at the early spring show and sale for the Blonde Society at Carlisle.
Hallfield Designer - 7,000gns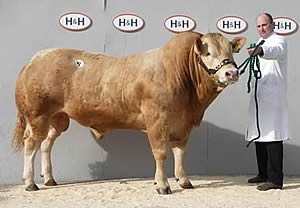 Hallfield Designer, a 20 month old son of the herds stock bull Blackwater Ainsley and out of a home bred daughter by Whistley Dollar. Carrying a beef value of BA+25, Designer was sold to local noted breeder Mike Harrison to join his Shapfell herd based at Sleddale Hall, Shap.
The next leading price tag of 6,500gns also came from the Hallfield herd of Messrs Weightman. Hallfield Destiny, another Ainsley son and out of Hallfield Rhona a Ballygowan Noble sired cow, sold with the success of winning the events Junior Male and Reserve Supreme Male Championship. Destiny joins the Ramrig herd of G & A Hamilton from Duns, Berwickshire.
The Senior and Supreme Male Champion, Brownhill Drew a 23 month old sole entry from father and son team Tom and John Hope of Strathaven, Lanarkshire. Sired by Cromkill Sandy and out of a Whistley Publican bred mother, Drew travels to the Vale of Glamorgan for enthusiasts AR & HC Thomas of Bridge End who purchased him for 4,800gns.
The second entry to the sale ring sold for 3,500gns. Consigned by Northampton breeders Hackleton Blondes their October 2007 born entry Hackleton Convair and sired by Hadley Hank was knocked down to Messrs Fleming of Kelso.
Northern Ireland breeder, Colin Todd of Co.Down, sold his only entry to the sale for 3,200gns. Pinehill Dynamite, a Whistley Dollar bred bull and going back to a Palace bred mother, carries an array of Northern Ireland show successes to his credit winning numerous Junior Male Championships throughout 2009. He sold to G McClanachan & Sons of Torthorwald, Dumfries.
A further two entries reached the 3,000gn mark. The first coming from Aberdeenshire breeder Alison Watt for her 2 year old entry Strathisla Dalmore, a Blackwater Jockey son, who was shown successfully during 2009. He was purchased by AG Flaws of Shetland.
The other 3,000gns entry was consigned by Ian and Sue Archer of Coventry. Marstonmill Dick-Dastardly is another entry of the Blonde breed which has won numerous show titles throughout the 2009 season. His mother, Marstonmill Penelope Pitstop is one of the breeds most successful show cows of all time culminating breed titles at all the Royal shows throughout the UK. Dick-Dastardly joins the Overton herd for Robert Kennedy of Ayrshire.
Included in the sale was the noted Blonde Babe show which was won by Alison Watt with Strathisla Darcy an in calf heifer by the herds home bred bull Strathisla Roger. Out of Strathisla Orchid and going back to a noted herd show cow Romer Lewella, Darcy was purchased by Yorkshire breeders J & JR Bradley for their Penyghent herd.
Selling for 2,000gns was a 21 month old maiden heifer exhibited by Roy Kinnish of Bridgenorth, Shropshire. Kinaston Dione, a daughter of Kinaston Ulmas and out of a Haydens Platinum bred mother, sold to JD Southward of Millom.
Following at 1,900gns was one of the youngest heifer entries to the sale, Doncombe Enigma a 13 month old heifer offered by David Knight of Bristol. She travels into Wales for A & LC Evans of Machynlleth.
Close behind at 1,800gns were three maiden heifers. The first came from Paul McGarry of Co.Antrim, N.Ireland. Budore Diva, an Easterton Rowan sired entry, sold to J Mellor of Derbyshire.
Next to reach the 1,800gn mark was the events Reserve Blonde Babe Champion shown by John Stott of Wigton. Felltop Dawn, a 21 month old heifer by Shapfell Bongo, was purchased by Scottish enthusiast David Dandie of Broxburn, West Lothian.
The third entry to sell was another young heifer exhibited by David Knight. Doncombe English Rose, another Rodleigh Voyager daughter, sold to Andrew Bailey of Kendal.
Averages – 15 bulls £3,479.00, 1 served heifer £2,415.00, 8 maiden heifers £1,863.75.

Continental Store Sale Attracts Show Potentials


Carlisle Whitebred Shorthorn Spring Sale 2010


Whitebred Shorthorns to Graze Penwith Moors