Wales Breeder is New North Country Cheviot Society President
2010-02-02
The man who established the North Country Cheviot in Wales has been elected President of the breed society. David Pittendreigh brought a small flock from the Black Isle, north of Inverness, when he moved to West Wales in the early seventies as a farm manager.
David Pittendreigh (left) with outgoing president Jim McPherson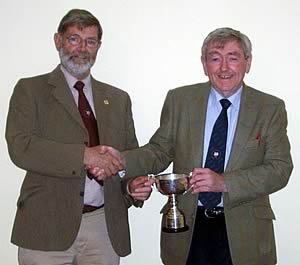 He quickly established a formidable reputation as a breeder, consistently winning at the Royal Welsh Show – just last year he took the Reserve Male Championship and his Female Champion went on to take the Reserve Overall Champion. He has also been a keen supporter of the Wales and |Borders Ram Sale since its early days.
David Pittendreigh says:"I think one of the reasons I was made President was because I had done so much to establish the breed in Wales. I've sold to people from Cardiff to North Wales and have started off about thirty flocks.
"There weren't a lot of Cheviots in Wales when I first came to the area but they are the biggest hill breed in Britain in terms of size and they fit very well into cross breeding with Welsh ewes. And if you keep them pure you can get the lambs away early at 21 kgs if you are intensive, or you can keep them on until the spring in a more extensive system. They are very versatile.
"I average 170% lambing and they're a good mothering, milky, hardy sheep. Mine are the Park type, which are the heavier of the three types of North Country Cheviot."
The Wales and Borders Ram Sale , Europe's biggest ram sale, is a focal point of the year for him. He says it's a real success story and allows people from all over the country to shop for a range of different breeds. And the social aspect is especially important!
Mr Pittendreigh says he's heartened by the number of North of England flockmasters who have opted for the breed after losing their Swaledales in the foot and mouth outbreak of 2001. And he's delighted by the upturn in the sheep trade – with big ewes fetching £200 a piece recently he feels the industry is buoyant.

Producers Hungry For Nutrition Guide


Year-Round Feeding of Ewes for Lifetime Production


Moira Stewart with an Interesting Story to Tell