Omro is Oman Son for Udders
2009-10-16
Newly available Holstein sire Omro, one of a growing number O-Bee Manfred Justice (Oman) sons in the current proof listings, stands apart from his siblings due to his unrivalled +2.05 Type Merit and +2.11 Mammary figures.
Daughter of latest Bullsemen.com release Omro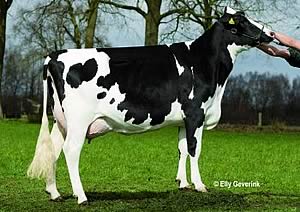 According to Nick Kirby, managing director of Bullsemen.com, it is Omro's udder improvement potential - alongside a good overall production and functional trait profile - that should attract a good proportion of dairy farmers.
"Omro is an Oman son out of Aaron, and hence he is so strong on Type and Mammary traits," he points out. "With +2.1 fore udder attachment, +1.4 udder depth and +0.7 udder support, he does a really good job on udders. Omro is another fine example of German Holstein breeding from GGI and is certainly a bull for anyone looking to incorporate Oman genetics into their future herd, particularly where udder strength is a priority."
Available in the UK from Bullsemen.com at a price of £18/dose, Omro has strong all round figures of £162 PLI and 393kg milk and he is a somatic cell count improver with an outstanding value of -22. Omro therefore comfortably sits within Bullsemen.com's Minimum Standards recommendations of over £100 PLI, +200kg milk and +1 Type Merit.

Young British Friesian Sire Offered Sexed to Meet Growing Demand


IGENITY Profiling to Help increase Jersey Breed's Rate of Genetic Gain


Jenny-Lou Marshall Ousts His Full Brother… Then Dies