2009-09-30
SAC vets fear the numbers of cattle and sheep infected with liver fluke this year could be at the highest level ever. They are urging farmers to remember to protect their stock from the parasite this autumn by using the appropriate treatment.
Liver fluke is threatening sheep flocks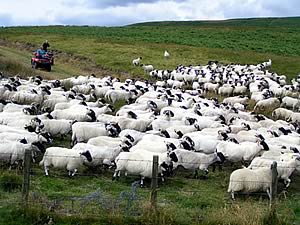 It is believed that the rise in fluke numbers, linked to rising temperatures and increased rainfall is another consequence of climate change and likely to get worse.
While of no risk to the food chain, the small flat liver flukes cause cattle or sheep to lose condition and can sometimes result in sudden death. The life cycle of the parasite Fasciola hepatica includes a mud snail in which it multiplies and which thrives in wet, poorly drained pasture. Conditions this year have been ideal for the snail and the parasite. Stock are infected as they graze and the parasite migrates to the animal's liver where it damages tissue. The parasite also makes other diseases more likely. Depending on the fluke infestation stock can be unthrifty or die.
In 2003 the fluke risk was so high that SAC mounted a campaign with farmers' meetings to give advice on how to treat the problem. In 2008 the prevalence of fasciolosis in sheep and cattle rose beyond those levels, and now 2009 promises to be even worse. The summer rainfall (April to August) has been more than 25% higher than last year and the temperature has been 0.25C higher.
SAC concerns over the likely number of cases this autumn and winter is supported by the figures to date - April to August shows an increase of 4% in percentage diagnoses in cattle compared with 2009 and 5% in sheep. The likely results are not only deaths, clinical disease, poor growth rates and liver condemnations, but also subclinical disease in sheep and cattle. Untreated cattle can shed eggs, infecting more snails, raising the threat to sheep as well. SAC is urging farmers to apply control measures to both sheep and cattle.
Cattle and sheep at risk of fluke should be vaccinated against the associated Black Disease then treated for fluke in October and January to break the life cycle. Outwintered animals are at particular risk. Where conditions favour the dwarf pond snail, stock may require additional treatments in November/December. Any sickly animals should have blood and faeces samples checked while casualty stock should be examined post mortem.
Since it was first detected in Scotland in 1998 the number of farms where fluke resistance to the drug triclabendazole (Fasinex) has been detected has risen. If resistance is suspected, faeces samples should be submitted to SAC Veterinary Centres 3-4 weeks post-treatment for post-dosing efficacy checks (PDECs). Alternatively, a faecal egg count reduction test can be carried out on ten faecal samples taken from the same ten individually identified animals on the day of treatment and 3-4 weeks later.
Farmers are also warned about bringing infected stock onto their farms, especially if they have wet boggy areas where snails thrive. Cattle and sheep from fluke areas should be treated with a product effective against immature flukes and quarantine applied. Ideally the treated animals should be held away from snail-contaminated pastures for 4 weeks with monitoring of fluke egg counts in their dung carried out in subsequent months and, possibly, a follow-up treatment 6-8 weeks after the initial dose.

Quarterly Disease Testing Added to CIS Product Range


PCV2 Vaccines Perform Well


Sheep Flock Performance Indicator Introduced