2009-09-01
At Borderway Mart, Carlisle on Monday 24th August, Harrison & Hetherington held their inaugural show and sale of Lleyn prime lambs.
Champion - M/s Fell, Chapel Farm, Bassenthwaite.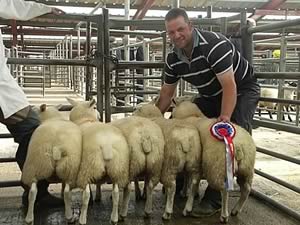 A huge show of 29 pens were forward for judge Sean Cowin of Welsh Country Foods to cast his eye over. Champion pen went to M/s Fell of Chapel Farm, Bassenthwaite which later sold at 38kg £66.50 to Rob Skelton. Brian Fell a new convert to the Lleyn breed purchased his first Lleyn ewes at Borderway Mart last year and crossed them with Beltex Cross rams. The Fells run a flock of Swaledales and Texel Crossed ewes and have been impressed with the quality of the lambs that the Lleyn ewes have produced.
Reserve Champion - M/s Wilson, Scales Farm, Berrier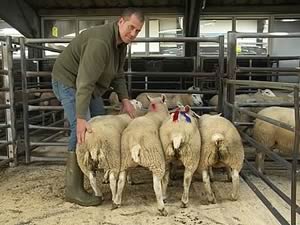 Reserve Champion went to M/s Wilson of Scales Farm whose 40kg lambs made £69.80 to Andrew Dawson. Rob Wilson who has run a flock of Lleyn sheep since 2002 at Scales Farm, Berrier, Penrith, is a convert of the breed and is now focusing on producing quality prime. This event was a fore runner to the annual Show & Sale of Lleyn Breeding ewes & rams to be held at Borderway Mart on Thursday 24th September.

PRIZE LIST
Class 1- Pure Bred
1st M/s Geldard, Low Foulshaw 40kg £58.80 to Welsh Country
2nd M/s Barrow, Helm Farm 40kg, £58.30 to Welsh Country
3rd Mr Morton, Bank Hall 51kg, £67.80 to Welsh Country
Class 2- Cross lamb out of a Lleyn ewe
1st M/s Fell, Chapel Farm 38kg £66.50 to R Skelton
2nd M/s Wilson, Scales Farm 40kg £69.80 to A Dawson
3rd M/s Geldard, Low Foulshaw 39kg £60.30 to R Booth
Champion - M/s Fell, Chapel Farm, Bassenthwaite
Reserve Champion - M/s Wilson, Scales Farm, Berrier

Sheep Grazing Demo - New Ideas, New Approaches


Sheep Farmers Flock to Opening EID Roadshow


Latest Sheep Market Outlook Shows Mixed Picture