2009-08-18
Beef and lamb producers in the Midlands are being invited to an open meeting to share best practice on how to get better returns from their animals.
A butchery demonstration will explain
meat specifications.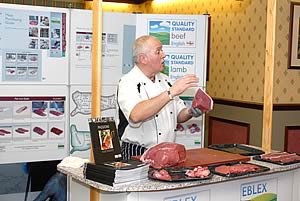 The free EBLEX event will be run at Shrewsbury Auction Centre, in Battlefield, Shrewsbury, between 6.30pm and 9pm, on Wednesday, September 9, 2009.
It will give producers the chance to catch up on the latest news on export markets for beef, lamb and offal, as well as looking at the year ahead. They will be able to chat to EBLEX's Better Returns Programme (BRP) representatives during three sessions over the evening.
A butchery demonstration explaining meat specifications will include a selection of ongoing EBLEX development work showing new, innovative cuts from the beef forequarter, giving added value to the traditional cuts that are often minced or diced.
There will also be sessions on the challenges faced by the red meat sector, such as climate change, water usage and feed efficiency, innovations in the sector and marketing programmes.
The event will be hosted by John Cross, chairman of EBLEX. He said: "The Shrewsbury open meeting is a great opportunity for producers to get together with our BRP co-ordinators to share good practice and learn about the latest innovations in the industry."
Hot beef rolls and tea and coffee will be served at the venue from 5.45pm.
Anyone who would like to attend the free event should contact Sandra Wilson on 0870 241 8528.

Sheep Meetings to Get Update on Scottish EID Pilot


Brassicas Deliver Cost Effective Carcase Quality for Winter-Finished Lamb


Highlighting the Benefits of EBVs