Toystory Daughters Continue Success in US Holstein Sales
2009-08-17
A $340,000 price tag for Savage-Leigh Lavisha-ET VG-89 Toystory X Licorice at the recent International Intrigue sale continues the headline-making successes for daughters of Holstein breeders' bull Jenny-Lou Marshall Toystory.
Second high seller of the day was Savage-Leigh Lavisha-ET now VG-89 Toystory X Licorice sold for $340,000 to Ludwig Farms in Illinois.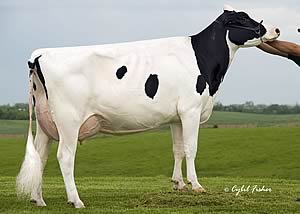 Purchased by Ludwig Farms, Illinois, the Toystory daughter was the second highest price of the day at the August 2nd sale hosted by MilkSource Genetics at Kaukauna, Wisconsin, where 93 lots achieved an average of $49,472.04 and a gross of $4,563,700. Another Toystory daughter, Regancrest TS Benshae-ET, was also amongst the top prices paid, selling for $196,000.
The high seller of the day was Regancrest S Chassity-ET as a package with several confirmed male & female pregnancies sold to a Syndicate for $1,500,000.

In June, Toystory daughter Amaya VG87 topped the Morningview sale at $75,000 whilst another (Savage-Leigh Lavim VG88) made the top price of $48,200 at Field of Dreams V.


Regancrest TS Benshae-ET, VG-87, sold for $196,000, to Ferme Blondin and Ferme Mystique of Quebec.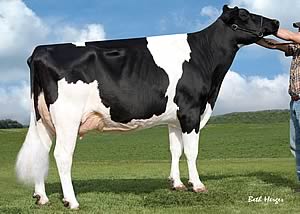 Toystory rose dramatically in the April 2009 proofs with a PLI up to £135 (from £104 in January) and a UK Type Merit climbing to +3.21 (from +2.46). This continuing rise is concurrent with the addition of large numbers of daughters to his proof, with these quadrupling from 514 to 2,130 since January.

Owned by CRI and available in the UK from Bullsemen.com, Toystory recorded 1 million units of semen sold at around the time of his eighth birthday earlier this year. His outstanding linear trait profile includes +3.07 Mammary (up from 2.52) and +2.05 Legs and Feet (up from +1.30). His milk production now sits at an emphatic +712kg, up from +574kg in January. Toystory is 6% for calving ease and is now 0.00 for Lifespan.

Jenny-Lou Marshall Toystory is listed in the latest Bullsemen.com catalogue, offered at a direct price of £29/straw whilst current stocks last.

Prize Winning Hebrides Holstein Herd Up for Sale


Robust, All-Black Holstein with Quality Milk Now On Offer Sexed


Cogent Sexes Semen from Young Red and White Sire