2009-07-17
Winners of the inaugural Caltech Hampshire Down Commercial Flock of the Year 2009 are Chris and Caroline Hodgkins, of Washington, Worthing who were commended for producing high performance lambs from an extensive easy care grassland system.
Chris and Caroline Hoddgkins receive their award from left, Caltech's David Johnson and HDSBA chair, Jennifer Atkinson.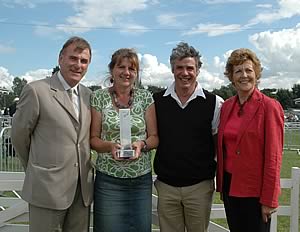 In joint reserve place are David and Sally Dixon, Hartley, Kirkby Stephen and Will Vose, Ormskirk, while the fourth winning finalist is Andrew Snow, Stroud, Petersfield. In addition, the Caltech award for the flock demonstrating best nutrition goes to David and Sally Dixon.

Caltech put up £1,000 worth of Crystalyx product split between the four finalists who also received ram purchase vouchers from the Hampshire Down Sheep Breeders' Association.

"Each of the finalists flocks was managed to the highest standards and the Hampshire Down's key strengths were very apparent; its ability to leave lambs that are easy to lamb, hardy and lively, and go on to finish off milk and grass from 12 weeks to target weight and grade within the specification," said judge Hugh Veitch, livestock buyer for Scotbeef, procuring up to 1,000 lambs a week who also who manages 500 Mule ewes, at Shawbraes Farm, Reston, Berwick.

"However, Chris and Caroline Hodgkins' 3,000 ewe flock had the edge. They are managing an extensive outdoor lambing system and demonstrating how high EBV Hampshire Down rams produce crossbred lambs with absolutely minimal intervention at lambing. Within three months these lambs are reaching 18kg target weight off rough herbage and grading R or better. The couple have also embraced new technology, they use the latest handling equipment and have introduced their own digital recording system which greatly impressed me. Their stockmanship is first class."

Caltech's David Johnson said: "I was very impressed with all the finalists and their quality of stock, in particular the conformation of the Hampshire Down cross finishing lambs and their weight for age compared with lambs sired by other terminal breeds. The award for best nutrition goes to David and Sally Dixon who demonstrated an understanding of best use of forage on their Cumbrian hill unit."

Hampshire Down Sheep Breeders' Association chair, Jennifer Atkinson commented: "We are delighted by the enthusiastic response to our first ever industry award very generously supported by Caltech and supported by commercial sheep producers throughout Britain using a registered Hampshire Down ram as their flock's terminal sire. The initiative achieved one of its major objectives - to strengthen links between pedigree breeders and commercial farmers.

"Furthermore, it has rewarded commercial producers who are among an increasing number taking advantage of the modern Hampshire Down's recent genetic improvements conferring a longer and larger carcase, higher growth rates, leaner confirmation and more measurable muscle per carcase. Added together, these traits contribute towards maximising the number of kilos of lamb produced per acre from grass based systems, most cost effectively and cost efficiently."
The finalists

David and Sally Dixon, Hartley Castle Farm, Hartley, Kirkby Stephen, Cumbria
550 acre Cumbrian hill unit
1,200 ewes comprising a mix of Swaledales, Mules and Texel cross Mules
The Dixons are among those dedicated hill farmers who are focused on continually improving flock output and exploiting the market place to ensure a sustainable business. They've swapped a Continental terminal sire for the Hampshire Down to put over a portion of their Texel cross Mule flock enabling them to finish lambs to target weight up to four weeks sooner and command a premium price from the earlier market.


Andrew Snow, Stroud, Petersfield, Hants
250 acres
515 Suffolk x Mule ewes
The sheep enterprise is a new venture established in 2004 on a former dairy unit, with 20 ewe lambs and rapidly grown to current numbers. Andrew has adopted a low input easy care strategy, lambing outdoors in May, and the Hampshire Down was the preferred terminal sire because of its ability to leave lambs that finish off low cost grass based systems. Lambs are marketed through a local branding initiative and plans are to develop a new 'Snow' brand.


Will Vose, Blundell House Farm, Ormskirk, Lancs
420 mixed acres farmed in partnership with brothers, Stephen and Alan and father, Bill
1,100 Suffolk cross Mules
The Vose manage a traditional early finishing system and two key factors are critical to its success: achieving target weight while the new season market remains strong, and ensuring the entire crop of lambs are away by the end of June when home grown forage supplies become scarce. The Hampshire Down has played an essential role for going on 20 years; no other terminal sire breed can match its ability to confer speed of maturity, carcase quality and hardiness.

Lyham Flock Wins Top Award for Vendeen Sheep


Emblefast Flock EBLEX Most Progressive Texels


EBLEX Most Progressive Flock Award for the Meatlinc Breed