Bulk Tank Reveals Value of Grazing Variety Selection
2009-07-23
If litres in the bulk tank are the best indicator of grazing quality, an on-going demonstration at Walford & North Shropshire College has provided clear evidence of the importance of variety selection.
Adrian Joynt, farm manager at Walford and North Shropshire College examines an Aber HSG 3 ryegrass and white clover grazing paddock with Helen Mathieu of British Seed Houses.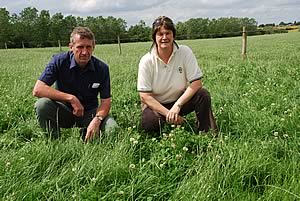 Speaking at a recent grazing management open day at the college, farm manager Adrian Joynt revealed how paddocks sown with superior grass and clover leys were shown to stimulate milk yield responses of up to 1.5 litres/cow/day in the 200-strong Holstein Friesian herd.
"The main lessons are that it pays to select the best quality available if you are aiming to maximise your returns from forage," he said. "There is also a strong argument for opting for specialist grazing leys over dual purpose alternatives, if this can be managed effectively within your system."
The mixture that consistently raised the level in the bulk tank was British Seed Houses' Aber HSG III long term grazing ley - which is exclusively made up of Aber High Sugar Grass diploid varieties plus a compatible white clover blend. These varieties all feature strongly in the recently published NIAB Recommended Grass and Clover Lists. On the evidence of its performance over the last two seasons, the mixture now features strongly in Walford's grazing platform, as Adrian Joynt continues to increase milk-from-forage from the herd.
"It has been our policy at Walford for a number of years now to produce more and more from home grown forage," he explained. "We have moved away from silage leys including Italian ryegrasses in favour of red clover and high sugar grass mixtures, and have increasingly introduced white clover into grazing mixtures.
"This project to compare dual purpose and conventional long term grazing leys with what - from the Recommended Lists - could be considered the best available specialist grazing mixture was designed to show how we can move onto the next level.
"There is no obvious yield difference between the pastures, and in fact the amount of cover measured with a plate meter prior to each grazing was roughly the same. The cows do appear to have a greater appetite for the Aber HSG III paddocks, but more significant is the milk yield differential. We allowed a time lag of 36 hours and saw the impact on the bulk tank each time."
The grazing platform for the Walford herd comprises around 65 acres of long term grass and is increased to 110 acres with access to silage aftermaths. Grazing paddocks are typically 3 - 5 acres, and are strip grazed on a rotational system.
A reseeding programme is on-going, and the 25 acre area providing the interest for the observational grazing trial was drilled three autumns ago as part of this process. Of the five paddocks, four were reseeded with different perennial ryegrass mixtures - all containing white clover - and one was left with the existing ley in place. Management has been common across all of the paddocks.

RABDF Welcomes European Food Safety Authority Report


Kintyre Creamery Announcement Delivers Dairy Boost


Semex Appoints Second Sandwich Student Field Evaluator