Former Farmer Joins Cogent in the North
2009-06-23
Breeding company Cogent has announced the appointment of Alan Robson as a new breeding advisor based in the north of England, who brings several years of successful dairy farming and cattle breeding experience to the job. He will cover the county of Lancashire and parts of south Cumbria.

Alan Robson (right) and Hugh Pocock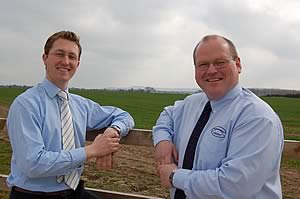 Alan has milked cows for most of his working life, having developed his family herd in Singleton near Blackpool with his brother and parents, until its dispersal in 2004. By the time of its sale, both the herd and Alan himself had amassed a succession of victories in both stock judging and in the show ring. The herd average production exceeded 10,000 litres and some 15 cows classified Excellent and 45 Very Good – many by Cogent sires – were offered in the dispersal. One in particular went on to excel, taking the AgriScot reserve Holstein championship in 2005, while another won her class at the National Holstein Show. Both were nominated in the All-Britain Awards in 2005.
Alan is well known in his region as a committee member for the Lancashire Holstein Club and having worked for Genus for the past four years.
Relishing the opportunity of working with farmers on improving the genetics in their herds, he says: "I have been very impressed with Cogent's strategy of breeding bulls from outstanding British families and testing them under UK conditions. I am confident there are greater things to come from this vibrant young company and I look forward to being involved in its future."

Lord Rooker Elected RABDF President


Taking the Heat Out of Summer Can Boost Dairy Cow Returns


RABDF Urges MPs to Lobby Food Sector to Buy British