Cogent Strengthens Team to Meet Growing South West Demand
13/02/09
Cattle breeding company Cogent has expanded its team in the south west with the appointment of Jason Evans, who has joined the company as a breeding advisor. He will work predominantly in Somerset and in some of the surrounding counties.
Jason Evans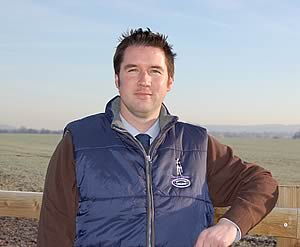 Jason has worked for several years in the farming industry, but has joined the Cogent team in order to concentrate on his interest in cattle breeding.
"My passion is cows and breeding and I will be able to concentrate exclusively on this now that I have joined the Cogent team," says Jason. "I am excited about working for such a forward-thinking and youthful company and eager to get to know the farming community in Somerset."
Jason studied at both Harper Adams University and at the University of Worcester, studying agriculture, business and marketing. He has worked on farms in both Somerset and Worcestershire, and moved into the farming supply trade on completing his degree in 2004.
Welcoming Jason to the team, Ed Pope, the south west's regional manager said: "Jason's youth and enthusiasm will be an invaluable asset to the team in the region, where we are facing a growing demand for Cogent genetics."

New Cogent Futures Young Holstein Sire Released - Dunnerdale Kestrel


Holstein Sires From Dairy Daughters Attracting International Attention


Wa Del Ricecrest Holman