26/01/09
Lynne Grieve, a member of Harrison & Hetherington's field staff, has been presented with the Dick Harrison award for the top student in the first year of a four year livestock auctioneering foundation degree course.
Lynne Grieve with her gavel, her award for top student
in her year, with Dick Harrison Trust secretary and auctioneer Robert Addison.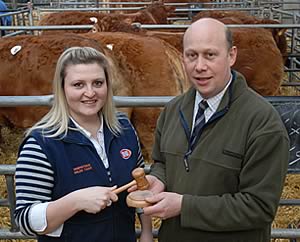 The course is run by the Livestock Auctioneers Association and the Institute of Auctioneers and Appraisers Scotland.
Lynne, who started working at Borderway in 2002, was presented with the award at the course's residential week at Newton Rigg, Penrith, by Dick Harrison Trust chairman Nick Utting.
"All I have known is farming and this job was a fantastic opportunity for me. I love what I'm doing - the variation of the work from booking cattle for Monday and Wednesday sales to canvassing," said Lynne, whose parents Gordon and Anne and brother David run 1,500 breeding ewes, including Hexham Blackfaces and Mules alongside 100 suckler cows on 1200 acres at Whiteside Farm, Birtley, Hexham.
Lynne has her own pedigree flock of 40 Texels and she is assistant secretary of the Solway and Tyne Texel Breeders' Club.
She has just given up her role of competitions secretary for Northumberland Young Farmers' Clubs of which she has been an enthusiastic member since she was 13. She is a keen stock judge.
The Dick Harrison Trust, which provides grants to young people wishing to enter a career in auctioneering or rural land agency. It was set up in memory of the late Dick Harrison, who was the well known manager of Borderway Mart, Rosehill, Carlisle, and did much to encourage youngsters to enter this rural sector.

EU Pesticides Rules Will Needlessly Harm Food Production


Special Offer to Guide Farmers in Making the Right Product Choice


NFUS Battles Brussels in Bid to Halt Pesticides Madness