Strong Performance Continues at Claas
16/12/08
With sales exceeding €3.2 billion and pre-tax earnings totaling €248 million, the CLAAS Group presented its best results to date in fiscal year 2007/2008.
Financial press conference in Düsseldorf (from the left): Thomas Klatt, Lothar Kriszun, Dr. Theo Freye, Dr. Hermann Garbers.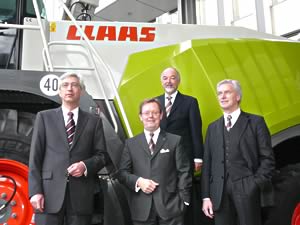 Sales grew by a total of 21.7%. For the agricultural engineering market alone, the figure was 22.8%. This documents the strong growth in sales in CLAAS's core business, agricultural technology, where the company specializes in combine harvesters, foragers, tractors, and green harvest machinery. The CLAAS Production Engineering and CLAAS Industrial Engineering segments also improved their external sales, reporting increases of 7.9% to €161.3 million and 4.1% to €42.8 million respectively.

Proportion of export sales rises
At 77.6%, the ratio of export sales to total sales was higher than the previous year's 76.3%. The agricultural engineering markets picked up in Western and Central Europe, and the Eastern agricultural engineering market, including Russia, recorded significant growth.
Business in North America exhibited positive signs as well, supported by a good harvest and strong demand for bioethanol. In the South American market, the recovery phase that started in 2007 continued.
The Indian market was stable. The increasing migration of workers from farming to industry has accelerated the process of mechanization in agriculture. Consequently, CLAAS is reinforcing its presence in this promising market. In the middle of the year, the company opened another production facility for rice combines in Chandigarh, Punjab.
R&D expenditures continue to rise
Expenditure on research and development rose by €4.2 million in fiscal year 2008 to a total of €113.8 million. Key R&D activities at CLAAS included the TUCANO MONTANA 4 (a combine harvester that can also work on slopes thanks to its special chassis), two new foragers in the 900 series (the JAGUAR 930 and JAGUAR 940), and the new AXOS tractor range. A number of other innovations were introduced in the green harvest sector

Strong employee identification
On the September 30, 2008 reporting date, the CLAAS Group had 9,100 employees, more than 40% of them outside of Germany. CLAAS is an attractive employer, consistently reporting very low attrition rates and a much higher than average ratio of trainees to employees in Germany at 7.8%. Employees in the CLAAS Group have an exceptionally strong sense of identity with their company. This fact was clearly confirmed by an employee study.

CLAAS strengthened by good results
Fiscal year 2008 put the CLAAS Group in a positive starting position, above all in terms of liquidity, which increased by 19.8% to €716.2 million on the closing date. The equity base improved significantly as well, rising by 20.9% from €604.4 million to €731.0 million. As a consequence, the equity-to-assets ratio rose to 36.1% (prior year: 34.0%). The solid cover ratios in the CLAAS balance sheet are supplemented by financing commitments exceeding €700 million, predominantly granted until 2014.

Investments in global production network
The volume of capital expenditure was significantly higher than in the previous year as well. At €122.3 million, total capital expenditure in fiscal 2008 was 8.3% higher than last year (2007: €113.0 million). In addition to investments in research and development, the emphasis was on the modernization and structural improvement of the global production network of CLAAS, which currently encompasses 14 production facilities.
CLAAS Group in Figures
(IFRS)
2008
million €
2007
million €
Change in %
Sales
3.236,2
2.658,9
21,7

Number of employees (September 30)

9.100
8.425
8,0

Cash flow (DVFA/SG)

285,9
236,3
21,0
EBITDA
385,6
312,0
23,6

Earnings before taxes

248,1
175,8
41,1

Net income

169,3
114,8
47,5

Capital expenditure

115,1
101,4
13,5

Equity

731,0
604,4
20,9

Total assets

2.023,9
1.776,0
14,0
Outlook
Global grain consumption reached record highs again in 2008. While grain production was able to keep up the pace, global supply levels are still relatively low. As a consequence, grain prices were once again higher than the multi-year average in 2008. The consumption of grain will continue to rise as the population continues to grow and eating habits change. Claas therefore expects the favorable income situation in farming to continue even though grain prices have dropped significantly in the meantime.
A potential worldwide recession would have an adverse impact on this fundamentally positive trend. However, due to the global trends described above, Claas believes that investment incentives for buyers of agricultural machinery will remain strong in the future. This is why we currently expect business to remain balanced on the whole although it will fluctuate in individual markets. Claas anticipates stable sales and earnings trends for fiscal year 2009 overall.

Trimble Acquires Assets of Rawson Control Systems


New John Deere Guidance Systems for 2009


Claas GPS Pilot Steering Solutions