07/11/08
ANM Group's Chief Executive Brian Pack has received the prestigious Ed Rainy Brown Memorial Award at the SAOS Annual Dinner in Carnoustie on 6 November.
Brian Pack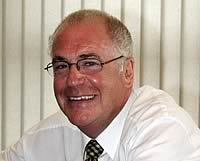 NFU Scotland and SAOS jointly sponsor the Ed Rainy Brown Memorial Award. Ed was previously Chief Executive of both organisations and the award was dedicated to his memory, following his tragic death in 2003. The award is presented annually to an individual in the farming, forestry, aquaculture or associated industries who has made an exceptional contribution within their specific field.
The tributes to Mr Pack were led by prominent Aberdeenshire farmer and businessman Maitland Mackie and the award was presented to Mr Pack by Ed Rainy Brown's wife, Katy. Speaking at the event, NFUS President Jim McLaren said:
"Brian Pack is a towering figure in the Scottish agricultural sector. In the past 18 years, this much-respected man has been the driving force behind ANM Group's development into one of the largest and most progressive farmer-owned businesses in the UK.
"He has grown the group's core business in auctioneering and abattoir sectors while at the same time pioneering its expansion into livestock procurement, meat processing, catering, hospitality, land and property sales and specialist auctions. Grasping the opportunities presented by diversification has also seen the group's base at Inverurie, play host to on-line events, weekly car and furniture auctions – even car boot sales! This highly diversified approach to business has ensured continued growth for the company at a time when it main activities of livestock marketing and meat processing have faced challenging conditions.
"Brian retires from ANM Group in April 2009. Scotland's farmers can be rest assured that his in-depth knowledge and industry expertise will not be lost and that Brian's services and opinions will be in high demand long after he has stepped down from his current post."

Chairman of SAOS, Gareth Baird said:
"With Brian at the helm, ANM Group has been one of the UK's most successful agricultural co-ops, having invested in its brands, its products, and its facilities, and has diversified. The core purpose of supporting Scotland's livestock production and livestock producers has always remained its driving mission."

Farmers Union Dismay at Pesticides Vote


Review of Agriculture Subsidy Appeals Procedure in Scotland


Scottish Farmers Call for Livestock Import Ban