Traditional Skills to the Fore at Regional Agricultural Centre
26/11/08
The traditional and the innovative sit side by side at the Great Yorkshire Showground as the latest phase of the Regional Agricultural Centre draws to completion.
Photo shows left to right: dry stone waller Harold Lund, Heather Parry, Deputy Chief Executive of the Yorkshire Agricultural Society, Stuart Falshaw, MD, Houseman & Falshaw and waller, Roderick Moon.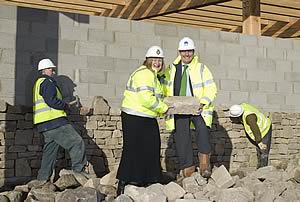 The £5.1m building project by the Yorkshire Agricultural Society includes a raft of cutting edge and environmental features, but this week the140 sq metre of dry stone walling built by local craftsmen is due to be completed.

The walling forms part of the south and west sides of the building and was included in the design by architects P+HS to emphasise the building's strong links to agriculture.

Heather Parry, the Yorkshire Agricultural Society's Deputy Chief Executive said: "The ethos behind the project is to be the centre of agriculture in the North of England and provide a showcase environmentally friendly building, not only for our offices, but for other not for profit agricultural organisations. Our history goes back more than 150 years, so including dry stone walling, which is such an important part of the northern landscape, could not be more appropriate. Also, it sits well with our innovative "green" building with all its ecological features." As well as the offices, the building will include "Fodder" - a café and regional food shop.

The walling has been organised by the construction contractors, Houseman and Falshaw of Copgrove, near Harrogate. Approximately 100 tonnes of reclaimed sandstone and grit stone have been used which has been sourced from demolished buildings from the county. The walling is being carried out for Houseman and Falshaw by Thwaite Brothers from Malham.

Work began on the project in summer, when Her Majesty The Queen unveiled a plaque to mark the start of the work. The Yorkshire Agricultural Society hopes that the Centre will be seen as a model sustainable building from which others can draw inspiration. The project is being supported by Yorkshire Forward.

Sustainable elements of the building include its timber frame, ground source heat recovery system, sedum roof and wool insulation, natural ventilation, solar thermal panels and rainwater harvesting. It is anticipated that the building will be completed this summer in time for the annual agricultural showcase organised by the Society, the Great Yorkshire Show which runs from Tuesday 14 – Thursday 16 July.

Yorkshire Members Celebrate Farm Stay UK Silver Jubilee


Outlook 2009 Looks at Challenging Meat and Livestock Future


Yorkshire Rural Support Network Looks to the Future