27/10/08
Continuing business growth in the UK has prompted natural feed supplements specialist Alltech to appoint Bob Kendal to strengthen its ruminant sales team in the north of England and Scotland.
Bob Kendal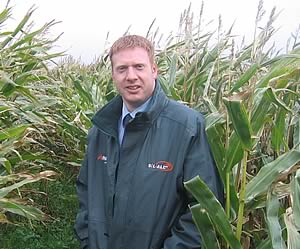 Originally from a farming background in Cumbria, Bob graduated from Edinburgh University and has worked in the livestock sector throughout his career to date, including positions with the SAC and Genus. He will work alongside area sales manager Neil Keane in maintaining and developing Alltech's ruminant sector business with feed trade customers in the region, and increase the company's presence on farms.

His responsibilities will include technical and solutions based recommendations in support of market leading brands such as Yea-Sacc1026, Bioplex Farm Pak organic minerals, Bio-Mos, Mycosorb and Sil-All forage additives.

Alltech continues to grow both in domestic markets and globally by providing natural feeding solutions to common livestock production challenges through research-based innovation. The company is typically increasing its turnover at a rate of 20% per year and will be approaching $0.5 billion in 2008.

Bob Kendal will report to Alltech UK business general manager Ian Leach.

Fermented Yeast Releases Production Potential


New UK Agent Appointed for Innovative Feed Moisture Management Package


Provimi Further Strengthens its Position in Latin America