Perth Charolais Bulls Set Record Sale Average
26/10/08
Charolais bulls met a solid trade peaking at 38,000gns in Perth on Thursday 23 October, with a new UK all beef breeds average of £5,564 established for 108 lots traded. Those figures represented the highest number of bulls of any breed coming under the hammer sold during the week's autumn multi-breed sales.
Sale leader at 38,000gns was the event's reserve junior champion, Goldies Champion.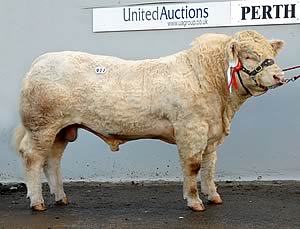 "Trade was market led throughout by suckler producers who were aware that Charolais crosses have not only consistently commanded premiums this season, but an even bigger price differential over other Continental crosses simply because of their fast and efficient growth and ability to finish to heavier weights which no longer suffer a penalty," commented British Charolais Cattle Society chief executive, David Benson. "These suckler men were also in no doubt that investing in Charolais would help them to beat the credit crunch."

Sale leader at 38,000gns was the event's reserve junior champion, Goldies Champion, a 17 month old by the 25,000gns Goldies Unbeatable and out of the 10,000gns Killadeas Legend sired Kinclune Pipper. Bred by Hamish Goldie, Ruthwell, Dumfries, Champion was knocked down sold in a joint bid to Charolais breeders, Adrian Ivory, Cardean and Bill Bruce, Balmyle, both of Meigle, Perthshire who between then run 125 pedigree cows. "This bull had the looks, the shape and the growth, he was very good on his legs, and equally important, he had good figures all the way through, in particular calving ease," said Mr Ivory. Champion was in the breed's top 10% with a Terminal Index (TI) of 33, a Self Replacing Index (SRI) of 38 and Calving Ease Direct 3.6.

For Hamish Goldie, it was not only his best ever day at Perth since taking over the family's Charolais herd 18 months ago, but he was also continuing the family's reputed ability to turn out strings of consistent quality bulls; his five lots to come under the hammer sold to average £12,600.

They included Goldies Carnival TI 26, SRI 37, a second class prize winner at 9,000gns to Gilbert Crawford, Maghera, Co Derry. Another May 2007 born bull, Carnival was by the 15,000gns Carlisle champion Burrradon Talisman, sire of the record 55,000gns Perth Huntingtower leading priced Thrunton Voldemort and out of a homebred cow, again by Killadeas Legend.

At 6,000gns, the 17 month old Goldies Crusader TI33, SRI38, sold to J and W Kellas, Dufftown, Keith. Another Unbeatable son, he was out of a Kinclune bred dam, also by Legend.


Senior Male Champion, Thrunton Camelot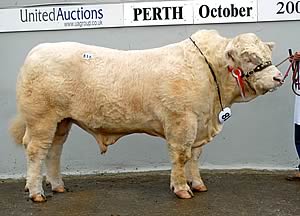 Hamish Goldie invested part of his day's taking earlier on when he made a joint 25,000gns call with Alasdair Houston, Gretna Green for Thrunton Camelot who 24 hours earlier had collected the overall senior male award for the Campbell family, Ian and John, their father Colin and Ian's son, Bruce. This 20 month old was out of a homebred cow going back to Moncur General and by the Perth supremo, Mowbraypark Orlando who was secured almost 10 years ago at 25,000gns and has since proved a solid investment having bred three Perth champions to gross 55,000gns.

Camelot, who is in the breed's top 1% with a TI 37 and SRI 47, and destined to run between the combined herds of 130 cows, offered the 'complete package', said Mr Houston. "We admired his scale, power, outstanding presence, good breed character and locomotion combined with top end performance figures."

The Campbells enjoyed one of their best averages in Perth in 30 years of making the round trip from Thrunton, Alnwick selling six entries to level at £11,602. Their next highest at 15,000gns was the first class prize winner, Thrunton Colorado TI 29, SRI 38, an 18 month old by the 11,000gns Carlisle champion, Solwayfirth Union son and out of a homebred cow by Maerdy Location. He sold in a split bid to Neil Harvey who manages a herd of 15 pedigree cows at Duns, and commercial producer, Fred Murray with 100 suckler cows at Wooler. "Colorado's a bull with great width and fleshing ability combined with shear volume and weight gain that led us to make up our minds to secure him," said Mr Murray.

Another Solwayfirth Union son, this time the 18 month old Thrunton Consort TI 29, SRI 37 and out of a Moncur General bred cow made 8,500gns to JI and WN Stout, Stronsay, Orkney, while Thrunton Carabinier (February 2007), by Union and out of a Blelack Jaguar sired dam sold for 7,500gns to Kincraigie Farms, Lumphanan, Banchory.

The previous day, Colorado and Consort had teamed up with Thrunton Cheviot to secure the Campbells the supreme champion group of three. Cheviot, an 18 month old Solwayfirth Union son, made 6,800gns to HG Leslie, Rhynie, Huntly.


Intermediate and Overall Supreme Champion,
Swalesmoor Cupid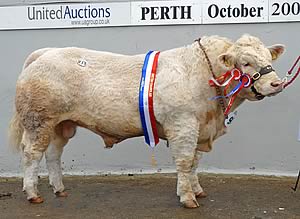 Next at 12,000gns was the intermediate and overall supreme champion, Swalesmoor Cupid, an 18 month old from Danny Sawrij, Eaglesfield, Lockerbie. "Cupid is a tremendous crossing bull, he's clean, solid all the way through, he handled the best over the hind quarters and he is fine boned," commented judge, Colin Wight after the four hour judging stint when he found the winning entry was complemented by top performance data being within the breed's top 1% with a TI 38 and SRI 45. The following day, Mr Wight backed his judgment when he secured Cupid on behalf of his family, brother Jack and father John to run with their two pedigree herds Midlock and Carwood totaling 70 cows and a further 330 sucklers.

Sired by the 34,000gns Perth supremo, Goldies Uppermost, and out Blelack Una who goes back to Bassingbourn lines, Cupid was no stranger to the ring having already secured both junior breed and junior interbreed titles at the Royal Highland Show. For Swalesmoor's Iain Campbell, Cupid was the best he'd turned out since being appointed as the unit's farm manager just five years ago and building up the herd to 40 cows with a handful of selected families. "I've been involved with Charolais virtually all my life, and winning Perth has just got to be the pinnacle achievement," he said.

Minutes before, Cupid's full brother, the 18 month old Swalesmoor Cavalier TI 32, SRI 38 commanded a bid of 7,500gns from HR Dalrymple, Ballantrae, Irvine. Swalesmoor achieved a second 7,500gns price tag, this time for the April 2007 born Swalesmoor Cannon from Clark Farms, Carluke, Lanark. A Dinglehofmeister son and out of a Maerdy Neptune sired Logie cow bred by Iain Campbell, he was within the breed's top 1% with a TI 41 and SRI 46 and was another familiar bull in the ring having claimed the M&S Elite Beef Breeder championship at the Royal Highland Show.

Two entries went to 10,000gns. First to go was the Caithness Campbell, a 19 month old Inverlochy Resolve son and out of Cargriff Salsa purchased in a private deal as a heifer. Campbell was bred by Daniel and Margaret Campbell, who run a 45 cow herd at Occumster, Lybster and achieved their first five figure bull in more than 25 years of breeding pedigree Charolais. He was knocked down sold to J Innes and Sons, Huntley, Aberdeen.

The day's second 10,000gns call was made for Bill Bruce's (Meigle, Perth) highest entry, Balmyle Churchill TI 35, SRI 41, a 17 month old by Balmyle Statesman, a Dingle Hofmeister son and out of a homebred cow. A first class prizewinner, he sold jointly to father and son team, Drew and Bob Adam Newhouse of Glamis, Glamis, Forfar and Major David Walter, Balthayock, Perth.

The leading entry from Northern Ireland at 9,000gns was Sandelford Curtis TI 24, SRI 31, a 19 month old from George Henderson, who runs a 10 cow herd at Bushmills, County Antrim. Sired by Goldies Usher and out of a homebred cow by Drumeer Major, he was secured by George Wordie, to run with his 230 cow suckler herd based at Glass, Huntley. The previous day Curtis carried off the reserve senior championship award, adding to his previous accolades – the Royal Ulster junior interbreed and reserve breed championships earlier this season on his only other trip out. Curtis's stablemate, Sandelford Chaplin, another same way bred 19 month old made 5,200gns to R Sabiston, Finstown, Orkney.

At 9,000gns, John Jeffrey, Kersknowe, Kelso offered his second class prize winner, Kersknowe Chief to WJ Jack and Sons, Killearnan, Muir of Ord. This 18 month old Burradon Tallisman son was out of a homebred cow going back to Killadeas Jack. The same breeder offered at 7,500gns Kersknowe Cadet, another 18 month old, this time by Moelfre Viscount and out of a homebred dam. The buyer was IHG Warden, Hawick.

Mr Jeffrey invested some of takings by bidding 8,500gns for Balnuith Carvalho TI 36, SRI 42. This 19 month old by Balmyle Victor and out of a Balthayock Lombardo sired homebred dam was the sole entry from Neil and Sandra Caul, Liff, Dundee.

The day's third and final 9,000gns call was commanded by Blelack Canasta TI 28, SRI 33, the leading entry from father and son team, Neil and Graeme Massie, Blelack, Aboyne. This 18 month old was by the 26,000gns Balbithan Vespasian and out of a homebred dam by Blelack Roger. He was knocked down sold to Frank Walton, Thropton, Morpeth. Another Vespasian son, this time Blelack Commando TI 32, SRI 37, made 7,000gns to AH Fisher, Portpatrick, Stranraer and WD Adams and Son, Wigtown.

The much admired junior champion, Killadeas Charade attracted 8,500gns, one of the day's final calls, and made jointly by Kincraigie Farms, Lumphanan, Banchory and Nether Balfour Farms, Drumoak, Banchory. This 15 moth old youngster bred and exhibited by father and son team, Stuart and David Bothwell was by Dunlon Ulick and out of Killadeas Novelty, a member of their 35 cow herd who is full sister to Killadeas Original, Jack and Legend. Charade was among the Bothwell's highly successful show team at Fintona where has was placed reserve intermediate champion.

Harestone Count, a June 2007 born first class prize winner by Maerdy Impeccable from Neil Barclay, Crathes, Banchory made 8,000gns to the Barker family, Nuthampstead, Royston.

Tedd Commander commanded the day's second 8,000gns bid from JJ Gordon, Wellheads, Huntly. A 16 month old whose homebred dam went back to Doonally New, Commander was the sole entry from S Hunter, Irvinestown, County Fermanagh.

Finally bid to 8,000gns was Ann Macpherson's (Dalcross, Inverness), Blackford Chieftain TI 26, SRI 32, another 18 month old Talisman son sold in a joint split between DS Davies, Gorebridge, Midlothian and Messrs Ker, Melrose, St Boswells. The same breeder also sold at 7,500gns Blackford Clansman, an 18 month old first class prize winner by Burradon Talisman and out of a Thrunton bred cow by Haymount Jetstream. He went home with Hamish MacKellar to run with his 90 cow suckler herd at Dallas, Forres.

A total of eight lots came under the hammer sold for 7,500gns. First in the ring was Esgob Campbell TI 28, SRI 35, a 17 month old by the 18,000gns Thrunton Virginian, a Burradon Talisman son and out of a homebred dam from Gareth Jones' 30 cow herd based at Cwmtirmynach, Bala. The buyer was Donald Finlay and Sons, Stirling. Campbell who was placed second in his class 24 hours earlier, was another entry to have already stolen the limelight; at the Royal Welsh Show he secured the junior male, male and overall breed champion, the junior interbreed championship and he teamed up with his paternal sister to stand reserve in the pairs championship.

Lislea Con, an 18 month old by Doonally New, bred by Pat Murtagh, and exhibited by G Cutler, Enniskillen, County Fermanagh commanded a 7,500gns bid from Michael Durno to run with his 160 cow suckler herd at Glenlivet, Ballindalloch.

Alasdair Houston's (Gretna Green) highest entry at 7,500gns was Gretnahouse Calypso TI 27, SRI 36, an 18 month old by Burradon Talisman and out of a homebred cow by Oldstone Egbert. The buyers were A and H Sim and Son, Monymusk, Inverurie.

Elrick Cassius TI 29, SR 34, an 18 month old Blelack Roger son and out of a Blelack cow by Thrunton Damien made 7,000gns to J Morris and Son, Easington, Aylesbury. A second class prize winner, Cassius was bred and exhibited by Michael Massie, Auchnagatt, Ellon.

The overall reserve supreme and reserve intermediate champion, Hindstones Cruiser, described by the judge, Colin Wight as being 'correct all the way through', attracted a 7,000gns price tag from CG Grieg (Farms) Gateside, Fife. Bred and exhibited by Willie Whyte who runs a 16 cow herd at New Aberdour, Fraserburgh, this 18 month old was by the 8,500gns Carlisle champion, Trefaldwyn Valiant and out of a homebred cow by the 4,600gns Padeswood Mercedes.

A bid of 7,000gns secured Woodpark Cain for Fawdon Farms, Powburn, Alnwick. Bred and exhibited by Will Short, Omagh, County Tyronne, Cain was by Rumsden Tsar, out of a Skidoo sired homebred cow, and had been placed first in his class.

Mike and Margaret Atkinson, Kirkby Malzeard, Ripon, offered their best, Mowbraypark Cavalier TI 29, SRI 38, at 7,000gns to JD Lindsay, Kirriemuir, Angus. A Burradon Talisman son and out of a homebred cow by the couple's renowned Mowbraypark Paramount, Cavalier had already enjoyed success in the show ring; he was a member of the champion interbreed junior beef group at the Great Yorkshire. This week he stood second in his class.

The female trade on Wednesday 22 October was led at 12,000gns by Dunesk Unesta, one of a draft from Jimmy and Margaret McMillan, Farnell, Brechin to J Price, Staunton-on-Wye, Hereford. This five year old Oldstone Egbert daughter who is one of Scotland's most highly celebrated show cows, was offered in calf to Burradon Talisman. Unesta's January born bull, Dunest Dubai by Brampton Albert sold for 2,200gns to A Taylor, Brindsley, Nottingham.

A cow and calf pair from the same vendors made 4,600gns to WR and M Mill, Westfield, Thurso. Dunesk Octavia, was a 10 year old Seawell Icon daughter while her yearling heifer, Dunesk Cleo was by Shraden Talisman.

Next at 3,800gns was the female champion, Derryharney Bethany, a two year old heifer by Derryharney Usher and out of a homebred cow by Oldstone Egbert. Bred and exhibited by Harold Stubbs, Lisnaskea, County Fermanagh, she sold to John Rix, Nayland, Colchester.

Averages: 108 bulls £5,564.00

Auctioneers: UA

Brecon Charolais Cattle Peak at 4,000gns


First New Australian Dairy Shorthorn Bloodlines in Four Decades


Northern Ireland Charolais Females Peak at 3,500gns