Chairman Caton Champ Again at Skipton NEMSA Opener
10/09/08
The season's big opening ewe lamb show and sale of Mule gimmers from members of the North of England Mule Sheep Association (NEMSA) at Skipton Auction Mart (Tues, Sept 9) was declared an all-round success in terms of numbers, quality and trading levels.
The Caton family - Rachael, 16-month-old son Jack and Ashley – are pictured with their champion pen of ten Mule gimmer lambs, joined by co-judges Robert Carter and Margaret Watkinson, and sponsor Chris Pearson, right.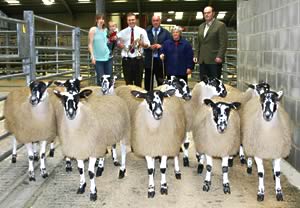 Despite having had to brave a long, wet summer, the lambs – all 6,863 of them - came to market in peak condition, a real credit to NEMSA members. The overall average selling price was £53.46 per head (£52.43 last year).

Ashley Caton, NEMSA's Skipton branch chairman, followed up on his clean sweep of trophies at the 2007 fixture, by again sending out the champion pen of ten gimmer lambs to retain his hold on the Chester Kneller Memorial Trophy and Ciba Geigy Perpetual Trophy.

Ashley, of Otterburn Lodge Farm, Otterburn, then saw his victors sell for the day's top price of £170 a head to Martin and Val Brown, of Newton-le-Willows, Bedale, who also purchased Ashley's title winners last year.

The champion 20-strong NEMSA pen was exhibited by former Skipton branch chairman David Booth and his son Robin, of Old Hall, Feizor, Settle, their charges receiving the second Ciba Geigy Perpetual Trophy and heading the class prices when sold for £95 each to co-judge Robert Johnson, Felliscliffe, Harrogate.

K Fawcett & Sons, Barden, had the second prize pens in both show classes, their 10s selling for £100 to GE Jackson, Low Bentham, their 20s acquired for £88 by J & E Greenhalgh, Bashall Eaves.

Ellis Bros, Addingham Moorside, sold their third prize pen of 10s for £94 to Peter Fawcett, Long Preston, while Ashley Caton also had the third prize pen of 20s, knocked down for £80 to RC Robinson, Pannal.

The show was again sponsored by Pearson Farm Supplies, of West Marton. Judges in the 10s were Robert Carter, Longtown, and Margaret Watkinson, Sessay, while the second co-judge in the 20s was James Tower, Grindleton.

NEMSA members are now looking forward to their second annual Mule gimmer lambs show at Skipton on Tuesday, September 23.

Butchers Clamour for Skipton Prime Cattle and Lamb Champions


Skipton Rare and Native Breeds Highlight a Runaway Success


Parkinsons Land Debut Success at Craven Dairy Auction