Pasture Innovations Underpin Sustainable Sheep Farming
08/09/08
Pasture improvement achieved through cost effectively over-seeding white clover into established pastures was a key talking point at a recent farm open day near Barnard Castle, County Durham, along with the combination of red clover with perennial chicory for boosting lamb finishing rates.
Helen Mathieu of British Seed Houses inspects a sward of Puna II perennial chicory and red clover with host farmer Richard Ward. This new introduction to the farm near Barnard Castle will be used to fatten lambs this autumn.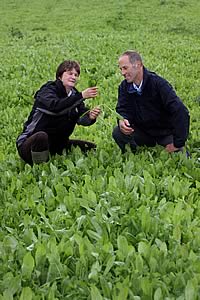 Host farmers Richard and Beverly Ward welcomed visitors to Cragg Top, Langleydale, to demonstrate their approach to grazing management as part of EBLEX's Better Returns Programme. With one farm already registered organic and another in conversion, innovative use of alternative forages is an important part of the future strategy, as is the transition to a closed flock.

"Our long term aim is to maintain the highest standards of flock health and to develop more of an easy-care system," explained Richard Ward. "To this end, we are replacing the Mules with Lleyns, as this will allow us to breed all our own replacements and achieve this higher health status through having a closed flock.

"Pasture improvement is on-going, and we have done a lot either by undersowing cereals with new leys, or direct reseeding. We have also very successfully stitched clover into an existing ley, thereby achieving notable improvement without taking the land out of production."

This sward improvement process began after a cut of silage was taken in early July this year. Sheep were then put in to graze down the aftermath very tightly and, following harrowing, a mixture of the medium-leaf white clover varieties AberHerald and AberConcord was sown using an Einbock drill. Sheep were then re-introduced to keep the sward down and also to tread in the seed, and were removed from the pasture as soon as the first signs of new clover plants emerged. By the end of August, the clover was sufficiently established to allow sheep grazing to continue.

"This has been a very cost effective pasture improvement strategy," added Helen Mathieu of British Seed Houses, who helped staged the BRP event. "The wet conditions this year have helped the clover to establish, and Richard has grazed the pasture at the right times to minimise the competition from the grass."

Visitors were also shown new red clover and perennial chicory pastures, which have been sown in May this year and will be used to finish lambs.

"This is a very useful medium term ley that will produce high yields of quality forage for rotational sheep grazing," continued Helen Mathieu. "Puna II perennial chicory is a leafy herbaceous plant with a deep tap root that will be more drought tolerant than most other pasture species and contribute high yields of mineral-rich nutritious forage."

Puna II perennial chicory is also valuable for its it ability to suppress gut worms in sheep and visitors were given a presentation by Debby Brown of Castle Vets of Barnard Castle on sustainable worm control strategies.

Hampshire Down's Genetic Progress Benefits Commercial Producers


Thirty Years of Builth Wells Ram Sales


Boost Needed for Scottish Sheep Sector