Another Five Dealers Providing McCormick Sales and Service
11/09/08
A continuing programme of new dealer appointments has resulted in another five newcomers to McCormick's retail sales and parts/service support network. They join the 11 new dealers announced earlier this year and the existing outlets that represent McCormick's interests – and those of its customers – throughout England, Scotland and Wales.
Peter Shields of W J Shields & Sons,
Shipton by Beningborough near York, has been waiting for the right tractor franchise to come available - and now it has, he's delighted to have signed with McCormick.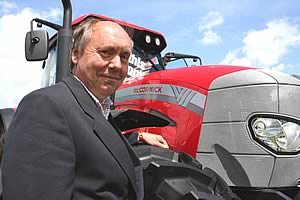 In Cumbria, Matthew Palmer of Jefferson Tractors at Longpark near Carlisle, covers the north of the county and the eastern half of Dumfries & Galloway, where the territory borders that of CAM Engineering, Castle Douglas. The company joins three new dealers covering the north of England and Scottish Borders appointed earlier this year – H Pigney & Son at Appleby, Relph Machinery at Great Broughton near Cockermouth and Newtown Engineering, Rothbury near Morpeth.

Across the country in Yorkshire, a vacant McCormick territory has given Peter Shields of W J Shields & Sons, Shipton by Beningborough near York, a long-awaited opportunity to sign-up to a strong tractor franchise. "We've been looking and waiting for a franchise that would suit us and when McCormick became available I knew that's what I wanted," he says.

At Aston near Oswestry, a new dealership formed by experienced tractor men Terry and Alan Hughes, Melfyn Jones and Andrew Roberts now represents McCormick in south Cheshire and north Shropshire. The business, HJR Agri Oswestry, covers an area adjoining the numerous territories handled by Burgess group branches.

Karl Whistance of K&K Whistance, Much Dewchurch near Hereford has taken on the McCormick dealership to expand and diversify his existing machinery business. It follows the decision by the owners of Collins Services, Pontrilas to close their business. The territory borders the Worcestershire and north Gloucestershire area covered by P&D Engineering at Bredon.

In the south of England, John Weetman Farm Machinery is the newly-appointed McCormick dealer for West Sussex and part of Surrey. John Weetman and his two salesmen renew a long association with McCormick tractors old and new during their time working for other dealers.

Having taken up the opportunity to expand their sales and service business with McCormick, each of the newly-appointed dealers has assembled a supply of parts and taken tractors into stock. Most have already won a number of retail orders from new customers.

"We're delighted to welcome these new dealers; they are handling a range of tractors that continues to develop and evolve to meet the growing expectations of farmers," says Stewart Barnett, McCormick's UK sales manager. "We'll be supporting them with our nationwide after-sales service team, a comprehensive service training programme for workshop staff, and our efficient Doncaster-based parts operation."


New McCormick TTX and XTX Tractors at Normac


CLAAS Announce New Management Appointments


Vehicle Duty Must Not Add to Farmers' Cost Burden