10/09/08
NFU Scotland, the Union representing Scotland's farmers, has today given evidence to the Scottish Parliament Rural Affairs and Environment Committee's round table discussions on the future of food policy.
Manifesto for the Hills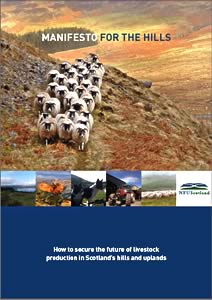 The Committee's intention is to determine terms of reference and establish priorities for the future inquiry into specific aspects of food policy and, in particular, is keen to ascertain the impact of food security issues on Scottish agriculture.
NFU Scotland's concerns focus on one fundamental issue which threatens the future, not only of Scottish agriculture, but of our ability to feed ourselves. The fear is that the decline in our food production capacity will undermine any food and drink policy, exacerbate food security concerns and have serious social, environmental and economic consequences.
James Withers, NFU Scotland Chief Executive, who gave evidence this morning, said:
"The long term future for Scottish agriculture ought to be bright. Global factors such as increasing population and greater affluence, together with a domestic market which is demanding high quality, locally produced food and drink all provide great opportunities for our farmers. However, despite the increasing recognition of the importance of Scottish agriculture, the businesses at its heart have rarely faced greater pressure and uncertainty.
"The problem is most acute in the hill and upland areas where lack of profit is forcing farmers to remove livestock. Our national sheep flock has reduced by 23 per cent in the last ten years and in some areas this reduction is as much as 60 per cent. Beef herds are also declining for the same reasons and in dairy herds, milk production has hit a 37 year low.
"At the moment it seems likely that the situation will worsen in 2008 as farmers continue to receive stubbornly low market prices at a time when many input costs, notably fuel, feed and fertiliser have gone through the roof.
"The farming industry, and NFU Scotland, wants to help itself. Farmers continue to look at improvements to efficiency, marketing and collaboration. The industry also needs the marketplace to deliver a sustainable and fair price that reflects cost of production. However, Government intervention will still be critical, given the huge social, environmental and economic consequences of a continued downturn in agricultural activity.
"NFUS has produced a document of proposals to show how a re-focussing of existing rural policy tools can address the issues, crucially without calling for additional funding – merely by making better use of funds that are already available.
"We now look forward to an urgent debate into the future of food production in Scotland's hill and upland areas and we very much welcome the Committee's intention to hold an inquiry into food policy.
"There are many issues to be addressed, namely clarity of food labelling, improving public procurement of Scottish food and drink, developing food and drink education for children and addressing the impact on producers of supermarket power. However, first of all we must consider the fundamental issue of how we secure the future of farm businesses."

Livestock Key to Hills and Uplands States Report


NBA in Defence of Beef's Carbon Footprint


A Little Known Fact About Agriculture's Carbon Footprint