01/09/08
Record entries in the livestock classes, notably in the dairy cattle section - the best for 14 years – were a highlight of the 110th Kilnsey Show. (Tues, Aug 26)
John Bradley with his Swaledale Interbreed sheep supreme champion, joined by
daughters Laura, left, and Rachael.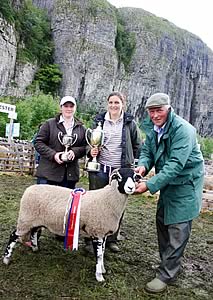 While a deluge on the eve of the show made for heavy going underfoot, organisers Upper Wharfedale Agricultural Society praised both northern agricultural communities and the general public for their continuing support of the biggest one-day agricultural event in the country.

Over 8,000 people braved the conditions, prompting show chairman and local farmer Robert Lambert to comment: "It just goes to show what a following Kilnsey has when so many people still attend when the weather is poor."

President Jerry Stockdale added: "It was gratifying to see so many people who travelled here. They are what keeps rural shows like this going."

The Duke and Duchess of Devonshire officially opened the show. The Duke encouraged visitors to continue supporting uplands farming and traditional shows such as Kilnsey.

In fact, the contribution that hill farming communities in the Yorkshire Dales make to UK agriculture was key to this year's show, with an area of the showfield exclusively devoted to showcasing uplands farming.

The Food and Farming for REAL initiative was bowing out at the show after a 12-month campaign that has successfully highlighted the vital role and positive contribution hill farming communities make to modern-day life.

The REAL marquee shone the spotlight on the best of what the region has to offer – from the view you see to the food on your plate, along with regional arts and culture, rural crafts and skills.

A total of 78 trophies and £16,000 in prize money were available, including £6,500 in the livestock classes.

James and Sarah Cooper, from Dacre, Harrogate, made an impressive debut when winning the Interbreed cattle supreme championship with their Limousin bull Tomschoice Churchill, while the Interbreed sheep championship went to a Swaledale shearling from local exhibitor John Bradley, of Litton.

Livestock classes were supported by day-long horse events - show jumping, shires, hunters and harness racing, along with displays and demonstrations showcasing all aspects of agricultural and rural life.

These included working sheep dog trials, vintage tractors and agricultural machinery, a dry stone walling competition, angling demonstrations, birds of prey, local produce and handicrafts.

Farm Health Planning at the Dairy Event and Livestock Show


Kilnsey Show Organisers Welcome Bluetongue Protection Zone Extension


Alltech's 2008 Global Dairy 500 Conference