Title Number Six for Jeremy Taylor at Craven Dairy Auction
19/08/08
The mid-August Craven Dairy Auction at Skipton Auction Mart (Mon 18th) was hailed as one of the best ever in terms of both numbers and quality in the newly calven heifers class, which attracted a robust 29-strong entry.
Craven Dairy Auction judge David Calvert is pictured left in the Skipton ring as he casts an expert eye over the strong entry of newly calven heifers.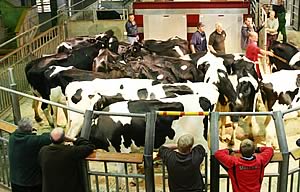 The total turnout of 37 pedigree and commercial dairy cattle was further proof that the mart is benefiting from Defra's recent decision to extend the Bluetongue protection zone to cover the whole of North Yorkshire and Lancashire.

Local dairy farmer Jeremy Taylor achieved a record-breaking sixth Craven Dairy Auction championship success with a home-bred newly calven pedigree Holstein Friesian heifer from his noted Smellows herd, established at Small House, Broughton, in 1967.

Mr Taylor, last champion in February, 2007, landed the spoils with Smellows Buddleia 5, who calved 11 days before the show and was giving 32 kilos. The victor is by his home-bred bull Smellows Magician, out of a home-bred cow, Smellows Buddleia 3 – who remains a "milk machine producing plenty of butterfat," according to Mr Taylor.

The title winner sold for the day's top price of £2,100 to G Abbott & Sons, of Dacre, Harrogate, while Mr Taylor also exhibited the third prize newly calven heifer, acquired by RM & LJ Throup, of nearby Bradley, for £1,880.

The reserve champion was the first prize newly calven cow from Libby Simpson, of Ripon, who, like the victor, was bought by the Abbotts for £1,800, top price in class.

Judge David Calvert, of West Marton, said: "It was a seriously good show of heifers and a fair test to split them. The champion is an excellent well-balanced heifer and had youth on her side when compared to the reserve champion, herself a very good cow."

Craven Dairy Auction regulars, father-and-son farmers Malcolm and Robert Swires, whose Whinhill Holstein Friesian commercial herd is based at Haverah Park, Beckwithshaw, Harrogate, had the runner-up in the newly calven heifers class, sold for £1,820 to E Moss & Sons, of Congleton, Cheshire.

The Swires also took second and third prizes in the newly calven cows section, the former also attracting a local buyer in David Shuttleworth, of Gargrave, at £1,440.

The next Craven Dairy Auction takes place on Monday, September 1, with entries accepted up to the day of sale.

Top Holstein Bull Still Top After Proof Re-Rank


Skipton Auction Mart Welcomes BT Protection Zone Extension


High Ranking Holstein Sexed Semen at Conventional Prices